ONLY ON CBS 5
Report: Phoenix PD may have broken law in inauguration security selection
Posted:
Updated: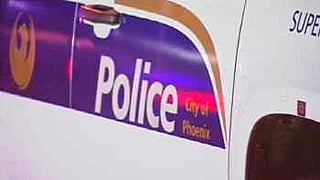 © CBS 5
PHOENIX (CBS5) -
A contingent of Phoenix police officers are part of the massive security detail Monday in Washington, D.C. for the president's inauguration. But the process of who would go was riddled with controversy.
CBS 5 News obtained the results of a discrimination complaint filed by five white male officers who claim minorities and women were chosen over them, despite their seniority.
The results of an investigation by the Phoenix Equal Opportunity Department obtained by CBS 5 News indicates police higher ups may have broken the law by using race and gender as one of the factors in choosing officers to participate in the inauguration.
"Based on what we needed ethnically, to balance out the list, he chose the most senior members of that ethnic group and/or gender group to go," Assist. Police Chief Tracy Montgomery said in her interview with EOD investigators.
Montgomery admitted that she and commander Geary Brase used race and gender in the selection process, but Montgomery and Brase also told investigations that they were ordered to do so by the city's top cop.
"I was told by Chief (Daniel) Garcia through Chief Montgomery that the police chief wanted to send a diverse representative group to Washington," Brase said.
An email by Montgomery also indicates that matching the inauguration team to the ethnic and gender breakdown of the department was the expressed desire of the police chief.
Investigators questioned Chief Daniel Garcia but his interview was not recorded like the others.
The report notes that Garcia admitted to being the one to request diversity but Garcia's name was left off the complaint.
EOD has given the green light to the five while male officers, who claimed they were discriminated against, to file suit if they desire. No word on if they will.
The results of the EOD investigation will be turned over to police internal affairs for possible investigation. Montgomery and Brase may face discipline. But the man who ordered and approved their discriminatory practice seems to have gotten away unscathed.
City management told CBS 5 News they are still working on the case and would not talk until it is over. But all the documents CBS 5 obtained state the EOD case concluded weeks ago.
[Related: PLEA: Phoenix PD used race, gender to select inauguration detail]
Copyright 2013 CBS 5 (KPHO Broadcasting Corporation). All rights reserved.