Brewer's budget plan boosts funding for education, school safety
Posted:
Updated: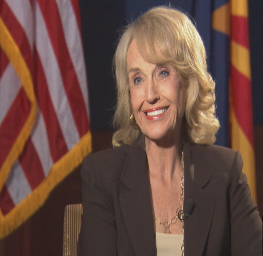 PHOENIX (CBS5) -
It's a budget Gov. Jan Brewer believes will improve Arizona while maintaining fiscal responsibility.
Brewer released her new budget proposal Friday.
The $8.9 billion plan will boost state spending in the next fiscal year by 4 percent.
Three key elements to Brewer's budget include education, Medicaid expansion and children's safety.
The governor is asking for $110 million in new education spending.
It's money that would be used to implement a new school standards program that features performance and improvement funding that rewards districts that make gains in student achievement.
When it comes to healthcare and Medicaid the governor is recommending that Arizona "opt-in" and expand Medicaid coverage to roughly 300,000 low-income people as part of the federal government's Affordable Care Act.
Medicaid expansion is expected to cost Arizona $154 million in 2014.
However, the state will get back $1.6 billion in matching federal funds.
The state has come under fire recently for not providing enough funding and resources to protect Arizona children.
As a result the governor wants $66 million to be spent on Child Protective Services.
The money would be used to hire 150 new caseworkers, expand the number of foster families and provide resources for the emergency placement of children.
The school shooting in Connecticut last month raised new concerns about school safety, prompting calls for more police officers on more campuses across Arizona.
The governor's budget is requesting $3.6 million for the Public School Safety Program.
The money would be used to add another 100 school resource officers across the state by creating a 1:1 state matching program to help districts pay for the officers they need.
Some democrats are proposing a $17 million increase in funding for school resource officers.
Now her budget needs Legislative approval. The Republican-led Legislature essentially has the same priorities and it isn't yet clear where battle lines might be drawn.
Senate President Andy Biggs and House Speaker Andy Tobin released the following statement on Brewer's budget.
"Today Governor Brewer released her proposed budget for FY 2014. We had a productive meeting with the Governor and her budget staff.
"Over the last few years, the Governor and the Republican-led legislature have restored Arizona's economic solvency by implementing fiscally conservative principles. The balanced budgets of the last two years have provided a wise and responsible framework designed to enhance our state's economic growth.
"We have reduced the size of government while increasing spending in critical areas such as education, funding for the seriously mentally ill and restoration of Temporary Assistance for Needy Families (TANF). Republicans have also responsibly restored a 'rainy day fund' in anticipation of unexpected obligations.
"Our hope is that the final enacted budget will replicate the success we have implemented thus far. There is clear evidence that the conservative approach to state funding is the proper way to bring our state back to full economic recovery. The Members of our two bodies look forward to working with the Governor in order to resume the continued success these measures have had for the people of our great state."
Copyright 2013 CBS 5 (KPHO Broadcasting Corporation). All rights reserved.