Arpaio's lawyers seek more latitude in DOJ suit
Posted:
Updated: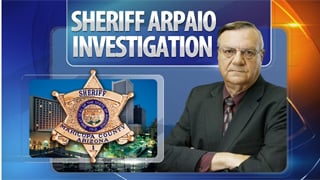 © CBS 5
PHOENIX (AP) -
Attorneys for Maricopa County Sheriff Joe Arpaio are asking a judge for more latitude in gathering information and deposing witnesses in a U.S. Justice Department lawsuit that alleges the police agency has racially profiled Latinos.
The sheriff's lawyers said in a court filing Wednesday that the Justice Department has proposed a pre-trial plan that doesn't let Arpaio's office pose more than 25 key factual questions in the case's information-gathering phase and limits the number of witnesses that they can depose to 30.
Arpaio's lawyers said the Justice Department's stance would put the sheriff at a disadvantage.
The federal agency didn't immediately respond to a request for comment Thursday.
The sheriff's office has denied the lawsuit's allegations that Arpaio's deputies racially profiled Latinos in its regular traffic and special immigration patrols.
Copyright 2013 Associated Press. All rights reserved.