Murphy, Himes hold roundtable discussion on gun violence
Posted:
Updated:
By Joseph Wenzel IV, News Editor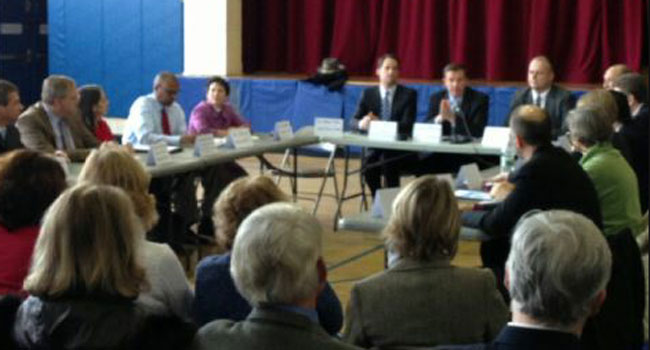 © The following photo was provided by Chris Murphy's office.
STAMFORD, CT (WFSB) -
U.S .Sen. Chris Murphy and Rep. Jim Himes held a roundtable discussion atthe Yerwood Community Center in Stamford Thursday afternoon to get more peopleinvolved in the conversation of gun violence.
"Gun violence did not start on Dec. 14 in this country," Murphysaid.
One of Murphy's current focuses is getting more people to talk about gunviolence.
"Passing more legislation is not the answer, either," he said."The NRA is powerful, but they are much less powerful today than they were30 days ago. Newtown has transformed this nation."
Stamford police chief Jon Fontneau informed the crowd that the city had fivehomicides this year. Three of them were the result of gun violence, he added.
"All of them unacceptable," Fontneau said.
People in attendance told Eyewitness News that they wanted more young peopleinvolved in the discussion.
"The crimes are being committed by younger people," said JereEaton of Stamford. "And we need to understand where they are coming fromand why they are carrying the guns."
Those in attendance wanted to know how they could get involved in theprocess. They can do that by contacting their local lawmakers.
The discussion came one day after President Barack Obama announced hisexecutive action plan on gun control following the mass shooting at Sandy HookElementary School in Newtown.
The plan includes a more streamlined way for law enforcement to share informationon guns. Obama also proposed universal background checks, a renewed ban onassault rifles and a 10-round limit on magazines.
"If there is even one life that can be saved, then we've got anobligation to try," Obama said at a news conference Wednesday afternoon.
U.S. Sen. Richard Blumenthal, who could not attend the discussion, said hemet with Murphy last week and met with people in Hartford who were upset withgun violence.
"As a result, when it comes to developments in gun safety, time haslargely stood still," he said. "This includes production of guns thatcan recognize their owners' grip, guns that could never be accidentally firedby a child or used by a thief. We must also do more to keep track of the gunsflowing through our communities."
Blumenthal added he supported recommendations made by the president. He alsosuggested having the Department of Justice track gun purchases.
"I look forward to working shoulder-to-shoulder with a broad coalition- comprising Newtown residents, law enforcement professionals, and countlesspeople in Connecticut and across the country who have said to me again andagain with deep grief and outrage, 'We have to do something,'" Blumenthalsaid. "This conversation today is an important part of continuing thatmomentum."
Gun violence, school safety and mental health were the topic of discussionTuesday at the state Capitol as lawmakers from both sides of the aisleannounced the creation of a bipartisan task force.
Leaders from the House and Senate announced the creation of the Gun ViolencePrevention and Children's Safety Task Force.
The panel of Democratic and Republican legislators will be divided intothree subcommittees, which will focus on gun control, school safety and mentalhealth.
Gov. Dannel Malloy established the Sandy Hook Advisory Commission, a16-member panel that has been given the task of bringing him recommendations onthose same three categories by mid-March in time for the regular session.
The new Legislative panel, announced Tuesday, said in addition to acting asa clearinghouse for the proposals that are being offered by lawmakers, it willalso keep tabs on the work being conducted by Malloy's committee.
Copyright 2013 WFSB (Meredith Corporation). All rights reserved.