Hospitals change visitation policies, due to flu
Posted:
Updated: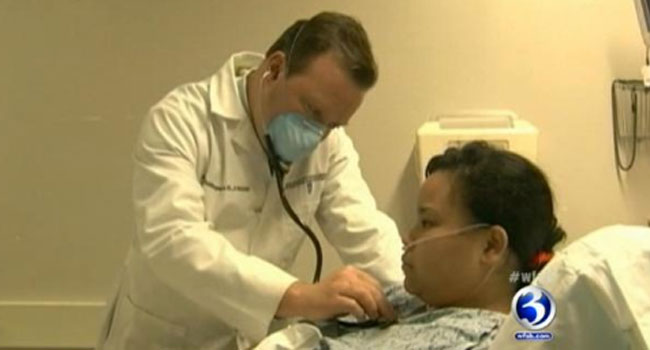 HARTFORD, CT (WFSB) -
As the virus becomes more and more widespread, hospitals across the state are taking measures to protect their patients including changing their visitation policies and restrictions on who can be admitted in the buildings.
Once a person walks into the hospital, they will be asked if they have received a flu shot. If they haven't, they will receive a mask and told to sanitize their hands. If you're under 14, they won't be able to walk in at all.
Signs are plastered at the doorways of Connecticut Children's Medical Center and a new visitation policy is now in place.
"No matter how hard you try, there's always the chance that a visitor or another patient or staff member, can transmit an infection to another patient," said Dr. Nick Bennett, who is a professor of pediatric infectious disease at the hospital. "And we have patients in the hospital, who are incredibly sick already."
The flu epidemic this year is different in how early and how fast the cases have been going up.
"Big concern is, we don't know when it's going to peak," Bennett said. "We could be at the peak. We could yet be to peak."
According to the numbers released by the Connecticut Department of Health last week, the number of emergency visits due to flu-like symptoms has gone up 10 percent and there were 332 hospitalizations because of the illness.
"We have spiked up dramatically in the last week or two. So we're catching up," Bennett said. "It's not that we have a magic wand that stopped us from getting sick here."
Bennett said influenza is the number one bug that's coming in right now. And that is why they are taking extra precautions.
The entire medical staff had to get their flu shots and two workers who did not get it, were fired. And for the time being, anyone under 14 years old will not be able to visit their siblings or friends at the hospital.

"We want to keep our vulnerable populations as safe as we can," Bennett said. "And that means unfortunately for some of these families, restricting visitations."
If someone has not gotten their flu shot yet, doctors said you should still get it as they have no idea how long this season will last. If you do get a vaccine, it will take 10 to 14 days before it becomes effective.
Copyright 2013 WFSB (Meredith Corporation). All rights reserved.