Phoenix apartment complex helps homeless vets
Posted:
Updated: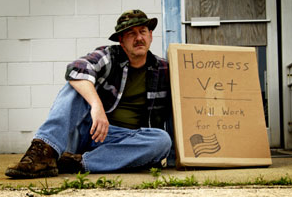 PHOENIX (CBS5) -
There are thousands of homeless people living on Valley streets, and many of them are U.S. veterans.
Sean Price, with Arizona's Department of Veterans Services, estimates there are roughly 750 homeless vets in the Phoenix area.
"Our post-9/11 veterans that we're seeing are becoming homeless even quicker these days than our Vietnam vets," said Price. "It's a huge issue."
City and state agencies do what they can to help the homeless out, but there's a new Phoenix apartment complex making a big difference.
Diana Yazzie Devine is the CEO of Native American Connections, a non-profit group that helped create Encanto Pointe, off Indian School Road and Ninth Street in Phoenix.
The $10 million project was funded through an assortment of local, state and federal grants.
Devine said the 54-unit facility has everything someone might need to get back on their feet and residents can stay here as long as they want.
"Some of them told us that the first night they're in they sleep on the floor and leave all the windows open," Devine said. "It's difficult. It's a big transition for them."
Phoenix City Councilman Tom Simplot (Dist. 4) told CBS5 that this is the first housing community of its kind in Arizona geared specifically towards homeless vets and others who've been on the street more than a year.
The Housing First program not only gives folks a place to live, it provides immediate resources to help fight substance abuse and eventually find jobs.
"Time and time again the stats bear out the success, that if you take the chronically homeless off the street and give them permanent supportive housing to deal with the many issues that caused them to be homeless, it will make a difference," Simplot said. "It's one less stress factor on their recovery coming in off the street."
Simplot said that another benefit of the program is that not only will the homeless get the assistance they need, it will reduce the strain on local police, emergency rooms and free up much needed space at Valley shelters.
Copyright 2013 CBS 5 (KPHO Broadcasting Corporation). All rights reserved.