'No Pants Day' comes to Portland MAX
Posted:
Updated: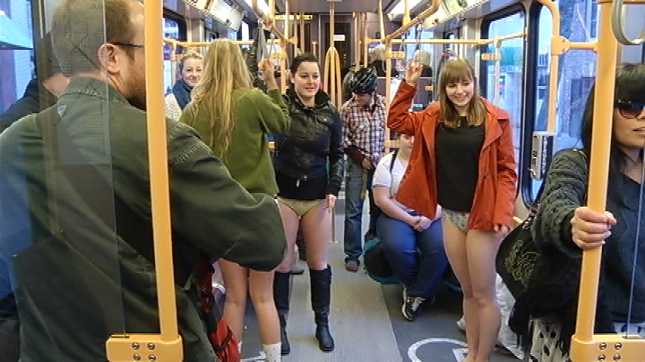 PORTLAND, OR (KPTV) -
Portland MAX riders caught some unusual sights Sunday afternoon as the No Pants Max Ride hit the metro area.

Hundreds braved cold weather and questioning glances for the event that took place from 2 p.m. to 7:30 p.m.
Participants met at Splashbar on Northwest Couch near 10th before riding to Pioneer Courthouse Square for a group photo.
The revelers said it was all about turning heads and having a good time.
"As long as I'm having fun, that's all that matters," said Richard Hick. "If someone can get a good laugh out of it or text their friend like 'oh my goodness, I saw a person in their underwear, I saw hundreds of people in their underwear' why not?"
Organizers said the only requirement to take part was that participants take their pants off.
Similar events took place across the country Sunday.

More than 600 people took part in the San Francisco event.
Riders in New York, estimated about 3,500 participated.
In Phoenix, people dressed down while their dogs dressed up to take part.
Copyright 2013 KPTV-KPDX Broadcasting Corporation. All rights reserved.