Lobbyist pushes for removal of photo-ticketing cameras
Posted:
Updated: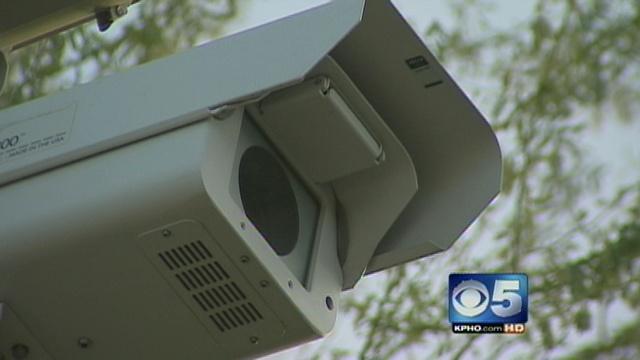 PHOENIX (CBS5) -
Two years ago they were taken off the highways, but photo-ticketing cameras are still in other places around the state. However, that could soon change.
Shawn Dow is the state director for Campaign for Liberty. He's the author of a bill that outlaws all automated ticketing machines.
SB 1352 would ban all unmanned still cameras that don't have a sworn officer present at the time of the alleged traffic violation.
Lawmakers voted on a similar photo-ticketing bill sponsored by Republican State Sen. Frank Antenori in the past, but it failed by one vote. Dow said he is confident the bill will pass this time around.
"Nobody likes them. They know they increase accidents, they violate state law, they violate your constitutional rights," said Dow.
According to American Traffic Solution's website, independent studies show their cameras reduce deadly crashes at intersections.
Most people CBS 5 News spoke with said they wouldn't be sad to see the cameras go.
"I think it's a cheap way for the government to keep tabs on us," said Scottsdale driver Sherry Pontious.
However, some people still think there are benefits that come with the cameras.
"I don't hate them. I think it slows people down," said Scottsdale driver Kristin Leslie.
Photo-ticketing cameras have been outlawed in 15 states.
Copyright 2013 CBS 5 (KPHO Broadcasting Corporation). All rights reserved.