CBS 5 Advocate
Mesa RV park resident outraged over trash fee
Posted:
Updated: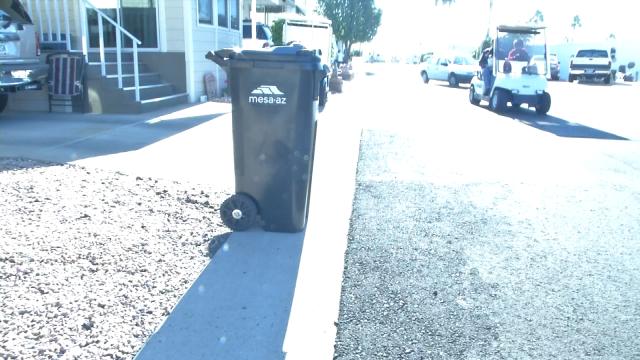 MESA, AZ (CBS5) -
A Mesa resident says management at his RV resort park is charging for services they're not providing. He's paying for trash removal - even during the six months he's living in Seattle.
Cal-Am properties owns the Valle del Oro RV resort in Mesa.
Management does have the legal right to charge for trash removal - even during long periods when a resident is absent. But our viewers say just because they can doesn't mean they should.
"Are they going to start billing me for air next year?" asked Rich Medved.
Medved is fed up. He spends six months a year in Washington state and the other six at the Valle del Oro RV resort in Mesa. The city of Mesa handles trash removal in the park. Medved says for years things worked smoothly.
"We're billed monthly even though trash is picked up once a week, and we would pay for it the months that we would habitat our unit," Medved said.
Residents of Mesa RV resorts, like Medved, were not billed for trash removal if they weren't staying at the park. Similarly, single-family residences in Mesa paid only 50 percent of the normal rate between April and August each year, if their homes were not in use.
But Mesa changed policy, and in April 2012, they started billing single-family homes every month - whether somebody was there or not. The new policy does not apply to RV resorts, but Valle del Oro implemented it anyway.
"They were going to start doing the same thing, and whether you're here or not, if you're an annual tenant, we are going to charge you every month," Medved said.
Valle del Oro now charges all its residents about $20 every month for trash pickup, even though Mesa doesn't bill the park for any residents who have no trash sitting out. Valle del Oro's action is legal under Arizona law, which states, "Landlords may charge separately for removal of waste."
"I see the word 'removal' as being key. If I'm not here, I'm not sitting out trash, there is no removal," Medved said.
It doesn't matter - RV resorts like Valle del Oro are permitted to charge up to the single-family residential rate. Medved says that doesn't mean they should.
"Well, it doesn't create a warm, fuzzy feeling. Basically, we're being charged for services that are not being rendered," Medved said.
Let's do the math: Cal-Am says it owns seven RV resorts in Mesa - all of them have the same policy. Valle del Oro alone has nearly 1,800 units paying about $20 a month. So, Cal-Am is collecting millions of dollars a year in trash removal fees - with a significant amount coming from "snowbirds" who aren't using the service.
Cal-Am says it uses that money to improve the facilities and operations of the resort for the benefit of all the residents.
Again, this is perfectly legal, so if you're a snowbird and an RV owner who doesn't think this is fair, do your research and look for RV resorts in Mesa that don't charge fees for services you're not using.
Copyright 2013 CBS 5 (KPHO Broadcasting Corporation). All rights reserved.