Pets, pipes, plants need protection in freezing temps
Posted:
Updated: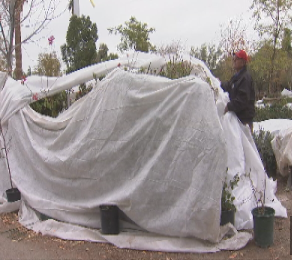 Wrap up those plants and shrubs.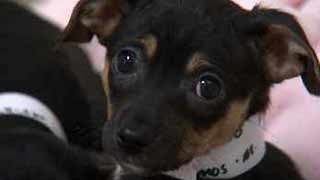 Keep your pets safe from the cold.
It's the kind of cold weather Valley residents are not used to seeing.
A strong Canadian air mass will send temperatures below freezing this weekend and it could last into next week. The coldest spots in the Valley, typically Buckeye, Queen Creek and Chandler, will fall well into the 20s for several hours each morning.
A freeze warning is in effect for Friday and Saturday nights and a freeze watch is in effect Sunday until 9 a.m. Tuesday and could be upgraded to watches if the air mass sticks around.
The Arizona Humane Society has just issued a Valleywide alert to all pet owners, reminding them to not leave their animals outside unless they have some kind of warm shelter.
"You can't just assume that because they have fur that this weather isn't going to affect them," said Bretta Nelson of the Human Society. "It can actually do a lot of harm to them."
Josh Fazenbaker with Valleywide Plumbing told CBS 5 News that the cold weather could do some serious damage if people don't take important precautions.
Fazenbaker recommends wrapping some type of insulation, that you can buy at any hardware store, around every pipe outside your home to reduce the risk of a pipe freezing, then bursting and possibly flooding your house.
"You can even take a garbage bag and wrap that around it," said Fazenbaker. "Just secure it with tape to keep it covered and protected."
Patrick Cosgrove with Plumbing Masters said homes in Montana or Colorado are built differently to withstand the cold than ones here.
"They have a lot more insulation, deeper sets, they don't put stuff outside, they run it inside to make sure it's protected," he said.
In addition to covering the pipes outside, Cosgrove advises people to turn on the hot and cold sides of the faucet to a slight drip so pipes don't freeze. He said the last time the Valley had temperatures like this a few years ago, his company went from three to four calls an hour to 150. They're bracing for a very hectic weekend in an already busy season.
"It's our busy time of year, so bumping that up is going to be tough," Cosgrove said.
Another concern for Valley homeowners is the potential freezing of their flowers, plants and trees.

Brian Whitfill, with Whitfill Nurseries, recommends watering down trees the night before the cold front rolls in and covering up everything around your house.
Frost cloths don't cost much and do a nice job of keeping plants warm.
Sheets and blankets will also do the trick.
"If you have citrus, especially lemons or limes, tropical trees like ficus or orchard trees, those should be covered," said Whitfill. "Watering plants is good, too - more water the better. It gives off heat and can be very beneficial."
Copyright 2013 CBS5 (KPHO Broadcasting Corporation). All rights reserved.