Report: 'Ordinary' buyers reign in Phoenix housing market
Posted:
Updated: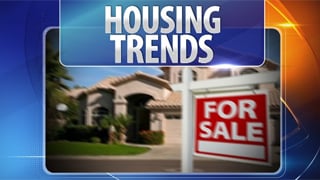 © CBS 5
TEMPE, AZ (CBS5) -
More ordinary buyers are lining up as Arizona home prices continue to rise and investors find fewer bargains to snap up.
The finding is contained in a new report from the W. P. Carey School of Business at Arizona State University.
The report finds three trends for Maricopa and Pinal counties as of November:
The median single-family home price continued to rise, jumping from $157,000 in October to $162,500 in November.
The tight housing supply grew 31 percent between September and December, but another drop may be coming in the spring.
All-cash offers are finally on a downward trend, signaling that investor interest may be waning a bit and more ordinary buyers are able to successfully compete for homes.
Phoenix-area home prices reached a low point in September 2011, followed by a sharp rise that's expected to continue into 2013, the report said.
The median single-family home price in November was up to $162,500 from just $120,000 last November - a 35.4-percent increase.
The average price per square foot rose 27.4 percent year-over-year. The townhouse/condo median price is up almost 43 percent, from $70,000 to $100,000.
The market is unbalanced, with not enough homes available for the many buyers, especially at the lower end, according to Mike Orr, the report's author.
The number of homes for sale, but not under contract, was down 7 percent year-over-year at the start of December. The amount of bargains or "distressed supply" was down a whopping 43 percent from last year. Things started to improve this fall, with total supply up 31 percent from September to December, Orr said.
"We don't see a strong flow of new listings coming onto the market," Orr noted.
Ordinary buyers, who usually need financing, still face multiple bids and tough competition from investors offering sellers preferred all-cash deals.
Foreclosures are down in the market. Completed foreclosures on single-family and condo homes dropped 34 percent from November 2011 to November 2012. Foreclosure starts - homeowners receiving notice their lenders may foreclose in 90 days - went down 48 percent.
Sales activity stayed relatively level, dipping just 1 percent from November to November. The most expensive types of sales, new-home sales and regular resales, are up 32 percent and 84 percent. All types of discount sales, such as short sales and bank-owned-home sales, are down.
Almost every area of the Valley has seen prices explode over the past year, led by Pinal County, including Eloy, Arizona City and Maricopa, according to the latest findings.
Copyright 2013 CBS 5 (KPHO Broadcasting Corporation). All rights reserved.