List of Maricopa County schools with posse patrol
Posted:
Updated: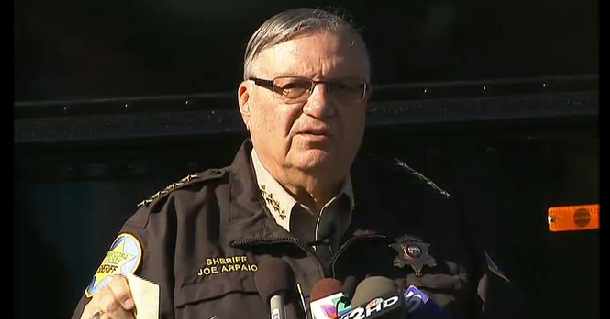 Maricopa County Sheriff Joe Arpaio during his news conference Wednesday on his school safety program.
PHOENIX (CBS5) -
Maricopa County Sheriff Joe Arpaio has moved his posse from the malls to schools. He says a strong law enforcement presence "should act as a deterrent to crime."
On Wednesday, Arpaio announced that the volunteer posse is armed, in marked vehicles and patrolling the areas surrounding the 59 schools in his primary jurisdiction. He said they plan to patrol each day for the rest of the school year.
Here's a list of the schools with patrols from Maricopa County.
District 1
Taft Elementary
Stevenson Elementary
Frank Elementary
Leading Edge Academy K-6
District 2
Litchfield Elementary
Country Gardens Charter
Scott Libby Elementary
St. Peter's Episcopal Montessori
Barbara Robey Elementary
Crown Charter
Dreaming Summit Elementary
Heritage Elementary
Heritage Elementary - West
Thomas Heck Middle
Luke Elementary
Wigwam Creek Middle
Rainbow Valley Elementary & Middle
Liberty Elementary
Palo Verde Elementary
Arlington Elementary
Ruth Fisher Elementary
Tonopah Valley High
Kaiser (Poloma Ranch) Elementary
Sentinel Elementary
Gila Bend Elementary
Gila Bend High
Mobile Elementary
District 3
Aguila Elementary
Mountain View Elementary
Nataburg Elementary
Moristown Elementary
Paradise Honors High
District 4
Anthem Kindercare
Creative Castle Preschool and Kindergarten
North Valley Christian Academy
Gavilan Peak Elementary
Anthem School
Caurus Academy
The Caepe School
Diamond Canyon Elementary
Dynamite Montessori
Westwind At Anthem
Desert Mountain
Boulder Creek High
District 6:
Desert Mountain Elementary
Jack Barnes Elementary
Frances-Brandon Pickett Elementary
Queen Creek Elementary
Newell Barney Junior High
Queen Creek High
Queen Creek Middle
Cortina Elementary
Crismon Campus
Power Campus
District 7:
Fountain Hills High
Fountain Hills Middle
Four Peaks Elementary
McDowell Mountain Elementary
Fountain Hills Charter
[Related: Arpaio deploys armed volunteer posse to schools 1/9/13)]
[Related: Arpaio: Armed posse meant as deterrent at Valley schools (1/8/13)]
Copyright 2013 CBS 5 (KPHO Broadcasting Corporation). All rights reserved.