UPDATE
Shooting victim's mom pleads for answers; memorial planned
Posted:
Updated: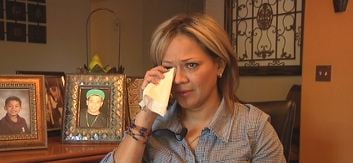 Pamela Coss
PHOENIX (CBS5) -
The past year has been filled with unfathomable decisions for Pamela Coss.
"I've made decisions that you're not prepared for as a mother," she said.
Coss made the decision to keep the bags filled with belongings her son, Fabian Cano, had with him when he died.
"I still can't open these up yet," she said.
She decided to display the statue that symbolizes her son was an organ donor. But there are also the decisions she just can't bring herself to make.
"What do you put on his grave site? I don't know, he has an unmarked grave site because I don't know what to put on there. What do you put on there? How do you say goodbye? You never expect that to happen," Coss said.
Her agony is enough to break your heart. She's hoping it has the same effect on the person who killed her son.
"You have no idea what you've done. You've destroyed my life forever. There's no bringing Fabian back, and that's really hard to accept," Coss said.
On Jan. 8, 2012, Cano was at a house party in the 7900 block of West Clayton Drive in Phoenix when a bullet ripped through the house and hit him while he was standing in the backyard. The killer took off and hasn't been seen since. His cousin, Casey Coss, was there that night.
"I don't really like to talk about it," Casey Coss said.
But he does want to talk about what his cousin's killer has done to their family.
"I don't know if he has a family, he has a mother. Picture the one he loved very much in pain. I would like him to try to do that. And to come forward," he said.
Pamela Coss hung a banner on the outside of her fence near 75th Avenue and Missouri Drive, not only in remembrance of her son, but as a reminder to anyone who knows what happened that day.
"I just need peace. I need this person caught," she said.
If you have any information about what happened, give Silent Witness a call at 800-343-TIPS or 480-WITNESS. The reward in this case is $5,000, and you can remain anonymous.
Cano's mother will be unveiling a memorial wall banner in honor of Cano on Thursday, Jan. 10, 2013 at 7495 W. Luke Ave. in Phoenix.

Copyright 2013 CBS 5 (KPHO Broadcasting Corporation). All rights reserved.