Large fire in Somers could have been caused by pellet stove
Posted:
Updated: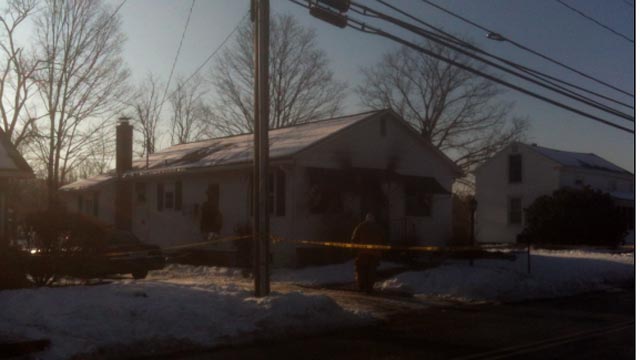 SOMERS, CT (WFSB) -
A pellet stove is believed to be the cause of a morning fire at home in Somers Tuesday morning that caused a woman to have to evacuate her house.
The woman initially called dispatch and stated that flames were coming from the pellet stove at her residence on Battle Street before 7:30 a.m.
Fire officials said she quickly re-dialed dispatch as the fire started fanning out across the house.
"We got a second call back stating the fire was extending up into the wall," said Somers Deputy Fire Chief Frank Falcone. "First crews got there, removed the occupant, she was hysterical. She didn't want to leave."
Everyone inside the home was able to make it out safely.
According to fire officials, the fire moved from the living room to the hallway and then finally into the kitchen. Crews were able to stop the fire before it climbed into the attic.
As for the cause, investigators spent Tuesday morning poring over a number of parts from the pellet stove. They said when the temperatures drop, these types of calls go up.
"Particularly when it's cold and with the high cost of fuel, everyone is using alternative fuel methods," Falcone said. "It appears it started in the vicinity of the pellet stove. We're still investigating. At this point it appears accidental as well."
Because there is some structural damage inside, the house is off limits for now. However, Eyewitness News has learned that the homeowner is staying with family.
One person at the fire told Eyewitness News that he is happy that everyone got out safe.
"One of my friends gave me the address and I was like 'Oh my God, that's my mom's house,'" said David Senter. "I ran over here, just got crazy."
Copyright 2013 WFSB (Meredith Corporation). All rights reserved.