Manhunt Monday: Reward posted for 'Dynomite' bank bandit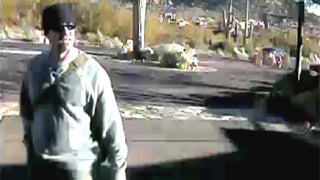 Surveillance camera captures suspect believed involved
PHOENIX (CBS5) -
The man who the FBI is calling the "Dynomite Bandit" could be getting even more dangerous, and officials are asking for the public's help to find the suspect who they have connected to three bank robberies.
Wells Fargo is offering a $5,000 reward for information leading his identity, arrest and conviction.
The first robbery was at a Peoria Chase Bank located near Vistancia Boulevard and North El Mirage Road on July 3, 2012. The second one was in December at the Wells Fargo in Anthem near Daisy Mountain and Interstate 17. The third was Jan. 2, 2013 at the Scottsdale Chase Bank near Dynamite and Pima roads. All three robberies were the work of at least one suspect, according to the FBI.
"The crimes are being perpetrated by a white male that may be working with an accomplice," said FBI Special Agent Mark Hoffman.
The white male was caught on surveillance video about a mile away from the Scottsdale bank the day of the robbery. Hoffman said the suspect will watch the business closely before he acts and his modus operandi is easy to spot.
"His MO is to gain entry to the banking institution after normal business hours, twice have been through a hole cut in the roof," Hoffman said. "We're looking at all types of individuals in this although he has extensive planning experience. Surveillance would lend us to believe that it may be somebody with a military or law enforcement background."
Police believe this man lowered himself through the roof at the Peoria and Anthem bank locations and in Scottsdale they believe he got in through a public entryway at an ATM.
And then the suspect uses the fake explosives.
"The subject then places a realistic looking explosive device inside the bank and exits undetected," Hoffman said.
The FBI said the next day when the bank opens, the suspect will call and threaten to detonate the fake bomb unless he's given money. Agents said the bombs look legitimate, but none of them have actually been explosive.
The suspect has only gotten away with money from the Peoria bank location.
Officials believe the suspect may be related to string of similar burglaries that started back in 2009 called the "Thou Shalt Not Steal Bandit."
If you know anything about the crimes you are asked to call police.
Wells Fargo team members are not eligible for the reward. This reward offer is good for one year from the date it is first offered unless extended by Wells Fargo.
The bank said it may pay only a portion of the maximum reward offered. The decision will be based primarily on law enforcement's evaluation of the value of the information provided.
Copyright 2013 CBS 5 (KPHO Broadcasting Corporation). All rights reserved.