UPDATE
Police ID man shot by officers outside Phoenix Walmart
Posted:
Updated: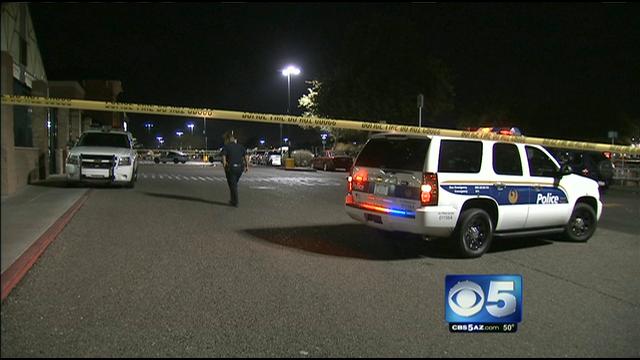 Shooting scene outside Phoenix Walmart
PHOENIX (CBS5/AP) -
Phoenix police have released the identity of a shoplifting suspect shot and killed by Phoenix officers in the parking lot of a Walmart near 52nd Avenue and Indian School.
Officers performed CPR on Chuckie Stowers, 39, until personnel from the Phoenix Fire Department arrived. Stowers was rushed to the St. Joseph's Trauma Center, where he was pronounced dead.
No one else was hurt.
Just before 4 p.m. Saturday, a Walmart loss prevention officer saw Stowers on the closed circuit store cameras removing a BB gun pistol from its original packing using a knife with a 4- to 5-inch blade, police said.
"They were watching him cut items open from packaging and conceal those items," said Phoenix police Sgt. Trent Crump.
Investigators said the three officers spotted Stowers leaving the store.
"As soon as he got past the doors, the suspect turned toward the officers and reached into his waistband, pulled out a black handgun and pointed it at the officers," said Crump.

Walmart shopper Pauline Viselli tells CBS 5 News she was in the store when the shots rang out outside in the parking lot.
Viselli said the entire store was evacuated.

Officers found the registration of a stolen vehicle in one of his pockets.

Copyright 2013 CBS 5 (Meredith Corporation). All rights reserved. The Associated Press contributed to this report.