22 dogs, monkey rescued from burning Phoenix home
Posted:
Updated: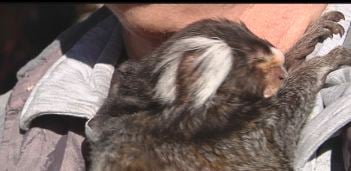 PHOENIX (CBS5) -
On Thursday night, a fire ripped through a Phoenix home. Now we know more about who - and what - was rescued from the burning house: a married couple, 22 dogs and a monkey.
"We have no idea what happened," said Chris Koudelka.
She said she and her husband were watching TV Thursday night when they noticed smoke outside. The house was engulfed and the flames came billowing out of the attic. But Koudelka and her husband managed to not only get themselves out safely, but also their furry friends.
"We have six dogs and I was babysitting my friend's dogs while they're on a cruise and they have a herd of Chihuahuas," Koudelka said.
She said they had a total of 22 dogs in the house; and then there's Jewel, who has a personality all her own.
"That's the first thing I did, I grabbed her and ran for the door because it was engulfed in nothing but a few minutes," Koudelka said.
Jewel is a marmoset monkey, and is her husband's service animal.
"She goes everywhere with us, she's one of the family," said Gary Mitchell.
He said he has PTSD and Jewel calms him so he doesn't get panic attacks.
"Keeps me mellow, so things like this aren't supposed to bother you," Mitchell said.
And Jewel must be good at her job.
"It's overwhelming because I've lived here for 42 years so there's a lot of everything," he said.
The house is a disaster zone, covered in 3 inches of water and soot and smelling like smoke and charred memories. But the couple is staying strong, reminding themselves that what they saved is priceless.
"I'm holding up pretty good, the critters are all OK, the monkey's OK, everything else can be replaced," Koudelka said.
No one was hurt in the fire and they still don't know the cause. The couple will be staying in their RV for a while; as for the pets, Koudelka said they're happily playing as if nothing happened.
Copyright 2013 CBS 5 (KPHO Broadcasting Corporation). All rights reserved.