CBS 5 Advocate
Do research before sending electronics through the mail for cash
Posted:
Updated: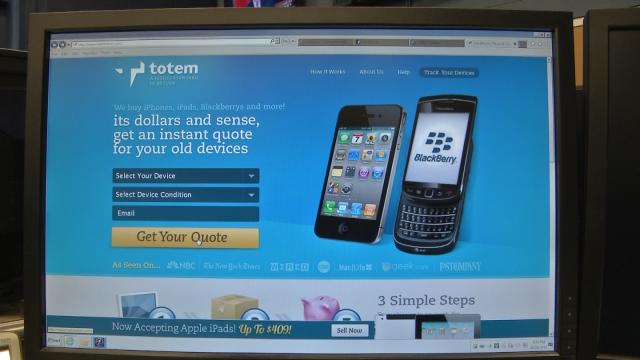 SUN CITY, AZ (CBS5) -
A Valley woman says she mailed her old phone to an internet company that promised to pay her for it - and she's never heard from them again. It's been more than three months, and now she's afraid she'll never see her phone or her money.
If you're not internet savvy, or you just don't like the idea of mailing off your old electronic device and trusting that a check will come back, you can sell it in person at stores like Best Buy and RadioShack.
But the web is definitely more convenient and many companies are safe and easy to use.
But you need to do some research before you make your choice.
"There were advertisements on TV - quite a few," said Margaret Mitzen.
Mitzen says what she saw from a company called Totem was exactly what she was looking for. She had just upgraded to a new Galaxy phone and wanted to get a few bucks for her older Blackberry. Totem was supposed to make it easy.
"They were going to mail me a packet, and I was to put my Blackberry in it, mail it back and they would immediately send me a check," said Mitzen.
Mitzen says a Totem phone rep agreed to pay her $37 for the Blackberry and her check would arrive in six to eight weeks. She mailed the unit in late September and tracked it on Totem's website. The site claimed the check was mailed, but Mitzen says she never got it.
"I contacted them four or five times, by email, by the 800 number, I got no answer. The 800 number mailbox was full and with the email I got no response whatsoever," said Mitzen.
It's been more than three months and not a single word. Mitzen says the only contact she's ever had with Totem was on the phone, day one, when they agreed to buy her Blackberry. Right now she's got no money and no phone.
"I'm mad and I expect people in business to do what they promise to do," said Mitzen.
And Mitzen isn't the only consumer dissatisfied with Totem. A quick search of internet complaint boards finds dozens of people with similar stories - "Totem agreed to buy my phone, I sent it to them, and I never heard from them again or never got the money I was promised." Mitzen says using the internet to sell old electronics isn't for her anymore.
"Probably what I should have done is stayed local, and gone to local shops, and checked around more," said Mitzen.
I emailed Totem many times trying to resolve this matter for Mitzen, but the company never responded, and when I called the phone number listed on their website, it was disconnected.
But as I said earlier, the web is safe and convenient for selling old electronics - just do some research and use reputable companies.
Gazelle, NextWorth, Best Buy, Amazon, along with several others, are all good choices.
Copyright 2013 CBS 5 (KPHO Broadcasting Corporation). All rights reserved.