Employees' mouths wrapped in duct tape, tied up during robbery
Posted:
Updated: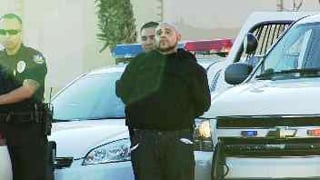 (Source: CBS 5 News) One of the suspects in the Wednesday afternoon robbery.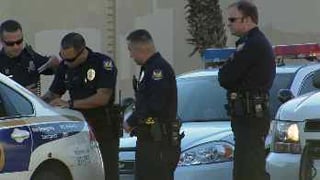 (Source: CBS 5 News) Two suspects were arrested and police are searching for one more.
PHOENIX (CBS5) -
Five employees of a Phoenix distributor business and a customer were forced into a bathroom and tied up with zip ties during a mid-afternoon robbery on Wednesday.
The people who talked had their mouths wrapped shut by duct tape.
At least two men were involved in the robbery. They threatened their hostages with a knife, though police say there's no indication they actually used it.
The owner of the company, Skyline Wholesale Distribution, is in India. He called a friend of his when he couldn't reach anyone at the business and asked his friend to check on things for him. The owner also called police.
"My friend called me to come here. Something is wrong here and I rushed here," said friend Anand Shukla.
When Shukla arrived, he knocked on the door and was greeted by a person whom he didn't recognize. That person claimed to be a new employee of the business.
"He opened the door and from behind the door he called me, 'Please, come. Come inside,'" said Shukla.
Shukla says he knew something wasn't right and he started to run away. That's when the first patrol car arrived on the scene. Sensing the presence of the authorities, the suspects took off.

"A white van came flying out of there between the two buildings and took off down the road," says Ryan Blumeyer, who works nearby.
The suspects inside the business jumped in a van belonging to the business and peeled out of the warehouse at high speed, ramming into a car before speeding away from the scene.
Following a brief chase, officers caught and arrested the driver of the van and a passenger who had jumped out a block away.
Police are still searching for a third possible suspect who left in a black-colored either BMW or Mercedes.
Officers found the employees of the business still tied up inside.
"They were forced into a bathroom within the warehouse which is where they were when the fire department and police arrived," said Sgt. Trent Crump with Phoenix police.
"One customer was also there, he was also injured but he ran away after that. He was very afraid. His hand was hurt and he got in his car and drove away," added Shukla.
"You go to work every day not thinking anything like this is going to happen where you're working," said Ryan Blumeyer, who works right across the street "For it to happen right across the way, it's pretty scary stuff."
Copyright 2013 KPHO Broadcasting Corporation. All rights reserved.