Man shot by random bullet at New Year's party
Posted:
Updated: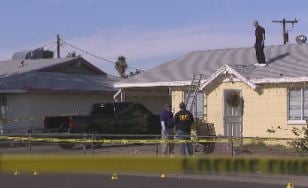 GLENDALE, AZ (CBS5) -
A New Year's house party got out of control Monday night in Glendale where a man was critically shot by a random bullet, according to police.
Police said they responded to the home near 6200 West Citrus Way around 4 a.m. for a call about a shooting in the area.
Ruben Garcia told CBS 5 News that his relative rents the home and said there was a houseful of people the night of the shooting.
"I'm scared because I've got my cousin, my daughter, my family," said Ruben Garcia. "Adults, and kids and teenagers you know."
Garcia said some people were told to leave the party and that started a fight.
Police believe a suspect started shooting into the home from the front yard after an altercation.
The sound of multiple shots woke the neighbors several doors down.
"Probably around seven, eight, nine, gun shots," said Paul Hete who lives down the street.
Hete said he there has not been any trouble before at the house where the shooting happened.
"Everybody pretty much around the neighborhood here is pretty quiet and they mind their own business," he said.
Hete told CBS 5 News that the shots sounded like they came from a small gun.
"It sounded more like a pistol, your high-power guns make a louder sound this was more subdued," Hete said.
Police said a 21-year-old Hispanic man inside the house was hit by one of the random bullets and rushed to the hospital in critical condition.
Hete was concerned for the safety of his own family.
"With the two bedrooms right here, it could have gone through the window if they had a ricochet or something to that effect or a run and gun battle you know, bad news all around," he said. "Guns and alcohol and New Year's is just a bad combination."
Police are searching for the suspect or suspects responsible.
Copyright 2013 CBS 5 (Meredith Corporation). All rights reserved.