UPDATE
Report outlines chaotic scene in Prescott bar
Posted:
Updated: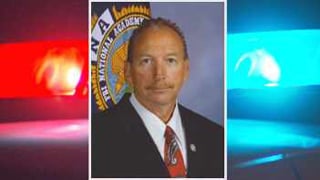 Prescott Valley Police Chief Bill Fessler
PRESCOTT VALLEY, AZ (CBS5/AP) -
A police report released Friday is shedding new light on a fight at a Prescott bar that has affected the highest level of law enforcement in the region.
Witnesses said "everyone was swinging at everybody" during a brawl that they said involved members of a biker club made up of law enforcement officers. A bar patron on Prescott's Whiskey Row was punched in the face.
High-ranking members of the Prescott and Prescott Valley police departments belonged to the club, and the Yavapai County Sheriff's Office has at least three employees in the club.
Prescott Valley Police Chief Bill Fessler, who is a member of the club, recently broke his silence.
In the two-page statement, Fessler blames the media for making false accusations against himself and other members of his department. He also said he has complete confidence in the investigation into the assault that is being conducted by the Department of Public Safety.
On Saturday, Dec. 22, Prescott police responded to the Yavapai County Regional Medical Center to talk with a man who said he was assaulted. The victim, Justin Stafford, 23, from Glendale, told police he was visiting Prescott and was in a downtown bar when he was punched several times by members of a motorcycle club.
Stafford told the Associated Press that he was talking to a biker when the man grabbed him by the throat and pushed him toward the bar. Stafford said someone then punched him in the nose, causing it to bleed and swell.
Stafford said he was drunk at the time and never saw the person who hit him.
CBS 5 News has learned the Whiskey Row Chapter of the Iron Brotherhood Motorcycle Club was having a Christmas party that night at Moctezuma's Bar on the popular Prescott strip.
The IBMC is a biker club for police officers. That particular chapter has members from several northern Arizona police agencies including Prescott Valley Police Department, Prescott Police Department, Yavapai County Sheriff's Office and the Department of Public Safety.
Fessler admits he was at the Christmas party but denies he or any of his officers were involved in the altercation.
Here is Fessler's complete statement:
"I am releasing this statement today for a two reasons, first; I do not wish to have the department I lead nor the community I serve to sit back in anticipation of the completion of the investigation to clarify if the leader of their Law Enforcement organization's moral fiber is as portrayed these last few days.
"Secondly, my 23 years' experience in this community, I have the utmost trust in our local reporters, and can say with confidence, the facts that I tell them; those are the facts that will go to print.
"The employees of the Prescott Valley Police Department work so very hard to provide a professional and respectable organization to the public and do their very best every-day to afford the best community service they can. In the past few days, their hard work is being disregarded and shadowed by all the media on this incident; this is sincerely my biggest disappointment.
"The Prescott Valley Town Council, Mayor and Town Manager are exceedingly supportive of the Police Department, and because of this incident, there is a glooming cloud over their many accomplishments related to this agency as well, this too, a disappointment to me.
"I cannot control the media sound bites running rampant with each and every piece of information, and done so with little clarification and/or validation on the specific facts of the incident, or the specific facts of those involved or not. I can only say that it would have been or will be appreciated that, only the facts make it to print.
"The accusations of the three Prescott Valley Officers involved in the altercation or as I believe it was referred to as; "implicated in the assault" and quotes such as; "high-ranking local officers who had been involved in the fight", I assure you, when the truth is revealed, will be to the contrary.
"I have been a police officer for almost 24 years and have been involved in Law Enforcement Motorcycle Clubs for about the last 14 years. There are in fact those that don't agree with the culture of Motorcycle Clubs, there will be those say that they (the members of Law Enforcement Clubs) are just emulating the stereotypical biker gangs. In the Clubs that I have been associated with, I can tell you that I have been surrounded by hard working, family minded, ethical, police officers and members of public safety that just like to ride Harleys Davidson's and if they were not, they wouldn't be riding with me. I will never change the stereotyping of bikers or anyone that has tattoos and ride Harley Davidson motorcycles for that matter, that goes back to the early 1940's, but you don't have to be emulating a bad-guy, just riding with friends in a group.
"Over these past 14 years, I have been involved in literally hundreds of Biker Rally's with literally hundreds of different Law Enforcement Motorcycle Clubs participating in events all over the country to include Christmas gatherings each year such as the one in question on December 22nd.
"When a group of motorcycle enthusiasts' that belong to a club, obtain a parking permit in an attempt to prevent disorder down-town with a lot of motorcycles, secure Hotels rooms or designated drivers and secure a private area to celebrate the holidays with friends, one would never expect that you would be plastered on the headlines over something you didn't do, several days later.
"I'll use myself as the example; I have been told that I have been implicated in a bar fight, actually thrown blows and did so for no apparent reason, and the stories goes on and on.
"I will not discuss specifics to hinder the DPS investigation, but I can tell you with confidence, Director Halliday will not leave a rock unturned, DPS will provide a thorough detailed investigation and at that time, the truth will be told. A good thing yet, another disappointment, the accusations aren't redacted, those damages are already done, really good people and their families get hurt, and did absolutely nothing. Will there be as much effort in the plastering of the truth that there was in the accusations of the alleged wrongdoings?
"Although, I am and have been of the mindset that riding with a bunch of cops isn't an unlawful activity, I have withdrawn myself as a member of the Law Enforcement Motorcycle Club I belong to, this so to prevent some future uncorroborated accusations' that would shed a negative light on the people that work so hard to make the Prescott Valley Police Department the professional department it is and for the people close to me to have to bear these type of unsupported characterizations of me.
"The Prescott Valley Police Department will continue to be a professional organization and will continue to move forward, this because; there is a core of individuals at the department that send an infectious message each and every day to; "always be professional" and "always do the right thing" This incident will not deter the professionalism of this agency nor will it change the goals of the service provided to the community.
"I can only pray that time is given to allow the truth to be told and the accused can be cleared of these damning accusations' of truly good people."
The Arizona Department of Public Safety said a full report should be ready within 45 days.
Stay with cbs5az.com for updates on this developing story.
Copyright 2013 CBS 5 (KPHO Broadcasting Corporation). All rights reserved. The Associated Press contributed to this report.