AZ educators want police officers, not armed principals
Posted:
Updated: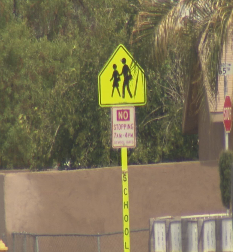 © CBS 5
PHOENIX (CBS5) -
Arizona schools have taken a major hit the past few years, with across-the-board budget cuts.
And that's led to a drastic reduction in the number of school resource officers on campus.
Tim Ham is superintendent of the Madison School District in Phoenix.
"We lost all our resource officers," said Ham.
Arizona Attorney General Tom Horne spent eight years as state school superintendent, from 2003 to 2011.
He said the cutbacks all came down to money.
"When I was school superintendent I fought against the legislature cutting back on the program we had of school resource officers," Horne said.

However, a closer look at the numbers show that a 46 percent cut to Arizona's school safety program took place while Horne headed up the Department of Education.
Since 2003, the number of officers at Arizona schools has plummeted from 307 down to 104.
Since 2009, funding for Arizona's School Safety Program has been cut by nearly $8 million.
Horne is now suggesting that a school principal or one other staff member be trained in the use of firearms and emergency response, then permitted to bring a gun on campus.
[Related: AZ attorney general wants school principals to 'pack heat']
He said the proposal is a reasonable alternative to the cost of putting a police officer on every campus.
Former school principal and Superintendent Jim Rice told CBS5 that principals having weapons is a bad idea and would not make schools any safer.
"Certainly they are not as skilled to handle that situation as a police officer would be," said Rice. "I don't care how well trained they are."
State lawmaker Chad Campbell said that he is planning to introduce a bill next month to restore funding to the resource officer program.
Copyright 2012 KPHO. (Meredith Corporation) All rights reserved.