Ambulance company takes people home for the holiday
Posted:
Updated: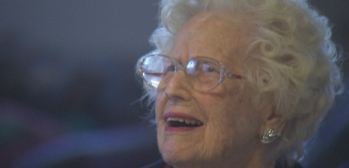 CHANDLER, AZ (CBS5) -
When you think of an ambulance, you usually think of a health emergency or bad accident. But Southwest Ambulance is changing the face of the service by taking people home for the holiday.
We want to introduce you to Grace Bristol, who turned 100 this year. She spent the last year and a half at her nursing home in Chandler, but this Christmas, with a smile on her face, a drink in her hand and a pretty sweet ride, she's celebrating in style.
Family is very important to Bristol - so are the little things in life, like a sense of humor. And when Bristol is in the mood for something special on Christmas, like family, food and maybe even some spirits, Southwest ambulance is at her service.
Bristol lives at Desert Cove Nursing Center in Chandler. Her granddaughter, Elizabeth Parks, often comes by to take her out, but she says it isn't getting any easier. That's where Southwest Ambulance comes in. They pick her up and take her where she wants so she can be home for the holiday.
And after they hit the road, you immediately sense how happy Bristol is to be back.
"She is a firecracker, she's a hoot," said Parks.
Once Bristol gets a drink in her hand, she also gets very generous.
"Do you want a slug?" she asked us, pointing to her drink.
"Having a chance to get to know her as an adult, one on one, I've gotten to know her as a person, and it's really been a lot of fun," Parks said.
"It's really what this program is about, is getting someone who wouldn't be able to go home for Christmas and make that holiday tradition something they can do again," said Katy Reeve with Southwest Ambulance.
And given the smile it's put on Bristol's face, it's been worth every mile.
"I've got to keep up with the rest of them," Bristol said with a smile.
Southwest Ambulance has many partnerships with homes across the Valley, and they've done their home for the holiday program for several years now. For more information, visit http://www.ruralmetrosouthwest.com/home-for-the-holidays.html.
Copyright 2012 CBS 5 (Meredith Corporation). All rights reserved.