Crowds pack Valley malls Super Saturday
Posted:
Updated: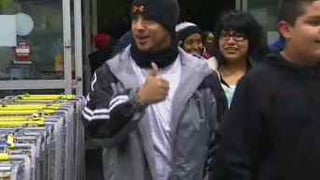 TEMPE, AZ (CBS5) -
It's the weekend before Christmas and people who've put off shopping are scrambling on Super Saturday.
"It's really crazy but I found a parking spot," said shopper Ugo Obinaha.
Justin Dwyer works at Just Sports at Arizona Mills Mall. He said this is the busiest it's been all season.
"It was so dead here on Black Friday. Today it's just packed," said Dwyer.
Deep discounts gave bargain hunters some extra cheer this holiday. Extended hours made folks happy too.
Macy's, Kmart, and Toys R Us are open around the clock this weekend.
But waiting this long to find that perfect gift does have its drawbacks. Especially when you learn what you're looking for has been sold out for two weeks.
"Probably what I'm going to end up doing is getting her a gift card. Then she can get whatever she would like," said shopper Christina Garcia.
After it's all said and done experts say Super Saturday could end up being the busiest shopping day of the year, even beating out Black Friday sales.
Copyright 2012 CBS 5 (Meredith Corporation). All rights reserved.