New amazing video shows drivers running red lights
Posted:
Updated: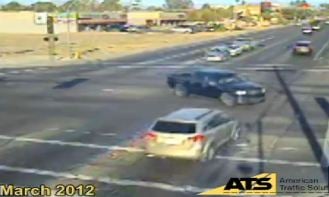 PHOENIX (CBS5) -
If you've been out and about lately, you've probably noticed more traffic.
It's that time of year again when more people are off work and hitting the roads and a lot more people are going out of town and to the malls for some last minute holiday shopping.
Have caution if you're going out because police are out in full force and a new video released shows just how bad it can be if you run a red light.
How many times have you been there, caught between the yellow and red light when you just try to make it anyway?
We hit the streets to ask some drivers if they have ever ran a red light and some honestly answered yes.
"Because I was going to be late for work," said Jose Meraz.
"They are either not paying attention or they think they can beat the red light," said driver Peter Anderson.
Or maybe we run a red light because we are distracted by our phones or just because of holiday stress.
"They are shopping and there are so many cars on the road and they are frustrated," said Alyssa Young.
But for most people seeing a video release by American Traffic Solutions, Inc. is pretty eye opening.
"That's really scary," said Young.
The video is a compilation of footage captured by red light safety cameras over the course of the past year that includes some serious crashes and some really close near misses.
"If the light is turning red, slow down don't speed up," said Charles Territo, vice president of communications at American Traffic Solutions, Inc.
They are the company behind the cameras at intersections across the state including several different ones in the Valley. The intersections shown in Scottsdale include McDowell Road and Hayden Road, McDowell Road and Scottsdale Road and Scottsdale Road and Thomas Road.
But Territo said the eyes in the sky decrease crash rates. Total collisions decreased an average of 24 percent at 10 intersections in Scottsdale with red light safety cameras in use for five years ending in November 2012 and total crashes decreased 36 percent from 2005 to 2009 at Mesa's 31 intersections with red light cameras, according to American Traffic Solutions.
"Ninety-seven percent of drivers who get a violation from a red light safety camera, don't get a second," said Territo.
He hopes by showing the video that every driver will think twice about running through a red light.
"The message is really to obey the law, to pay attention and to see firsthand just how deadly and preventable red light-related collisions are and can be," said Territo.
"I always say I'm a safe driver, but when you're in a rush sometimes you forget about the other people out there," said Young.
None of the people shown in the crashes were killed, Territo said.
Copyright 2012 KPHO (Meredith Corporation). All rights reserved.