Man arrested in Glendale murder
Posted:
Updated: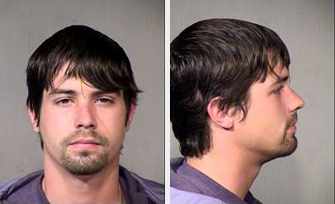 Corey Edward Lee
GLENDALE, AZ (CBS5) -
A man has been arrested for allegedly shooting and killing a man outside a Glendale apartment on Tuesday.
Corey Edward Lee, 22, was arrested on Wednesday in Glendale on one count of second-degree murder.
Officers arrived at 811 W. Glendale Avenue shortly after the shooting and found Lee standing over Jose Ledesma while Ledesma was lying on the ground, according to the police report.
Police said Lee used a revolver to shoot Ledesma once in the chest. Ledesma died at the scene.
Ledesma's girlfriend told police that he had gotten in a fight with Lee earlier that day and said she witnessed the fatal shot.
Lee told police that he had gotten in an argument with Ledesma and claimed Ledesma shoved him a couple times. Lee said he went to his apartment and loaded his .22 caliber revolver, and when he went outside he claims he thought Ledesma was going to beat him up. Lee later told police he was wrong for using that type of force.
Copyright 2012 CBS 5 (Meredith Corporation). All rights reserved.