UPDATE
AZ officials react to NRA's call for armed police officer in every school
Posted:
Updated: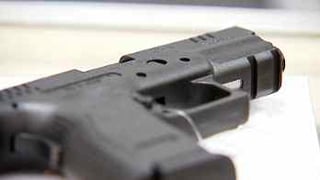 © CBS 5
PHOENIX (CBS5/AP) -
The National Rifle Association called Friday for armed police officers to be posted in every American school to stop the next killer "waiting in the wings."
The NRA broke its silence on last week's shooting rampage at a Connecticut elementary school that left 26 children and staff dead.
"The only thing that stops a bad guy with a gun is a good guy with a gun," the group's top lobbyist, Wayne LaPierre, said at a Washington news conference.
Officials in Arizona are reacting to the NRA's call for more armed officers.
Arizona Superintendent of Public Instruction John Huppenthal released the following statement.
"While the NRA recommendation is one alternative, it is one that would be a huge financial burden on an already financially stressed education system. We believe we need to think more deeply about the root causes of these events, and what other approaches might be able to be introduced that would ensure even safer schools."
House Minority Leader Chad Campbell, D-Phoenix (District 14), said he believes Arizona schools would be safer if there were more school resource officers on all campuses to protect students and staff.
He added that he will introduce legislation to restore the school resource officer program, which was drastically reduced by Republican budget cuts in recent years.
"Today we heard the National Rifle Association encourage the placement of armed security guards in schools. I agree. That's why we need to restore funding to the school resource officer program as soon as possible," Campbell said. "We need to make sure these officers have all the tools they need to effectively do their jobs to protect our kids. I'll work to ensure that happens."
Campbell added that since 2009, Republicans at the Legislature reduced funding for the program by nearly half.
"There's nothing more important than keeping our kids safe. Schools should be protected by trained officers," Campbell said. "To put more officers on campuses, we have to fund the program. It must be a priority."
Maricopa County Attorney Bill Montgomery had this to say about the NRA's request.
"I agree with the need to review security for schools. Whether that is best accomplished by armed guards or training designated school personnel to respond to crisis situations is a point for study. I wholeheartedly concur with the observation that gratuitous violence in film and games does not serve the best interests of youth and society."
Copyright 2012 CBS 5 (Meredith Corporation). All rights reserved. The Associated Press contributed to this report.