Semi-automatic rifle prices go up after CT shooting
Posted:
Updated: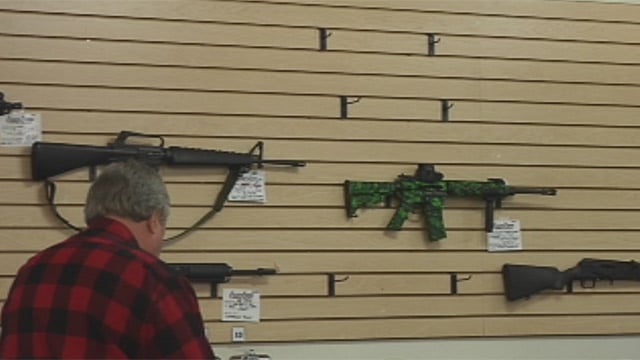 A few remaining semi-automatic rifles for sale at Allen Arms in Greenville. (Dec. 20, 2012/FOX Carolina)
GREENVILLE, SC (FOX Carolina) -
In the past week, semi-automatic rifles have cleared out at many gun shops nationwide.
Simply put, it's a shortage that's directly related to the Sandy Hook shooting and the fears that those rifles could be gone if new legislation passes.
"Yesterday we went out of stock for the first time," said John Van Swearingen with Allen Arms Indoor Range.
"We got a fresh stock this morning, we opened at 10 and we were out of stock by 1."
Van Swearingen said he has seen sales of most any type of semi-automatic rifle go up - sometimes double or triple the normal business.
At Allen Arms alone, gun prices are 30 to 35 percent higher than they were last week.
"If the supply goes down and if the demand goes way up, we see a price increase at a dealer level and that gets passed, along with the normal markup, on to the shelf," said Van Swearingen.
One man who bought an M400 rifle Thursday said, "I actually had been planning it for a while, but what's been happening on the news has sped up the decision to buy one."
Van Swearingen said the reasons for getting a semi-automatic rifle have less to do with the connection to the Sandy Hook shooting and more with the its legitimate use.
"There are folks that are looking at them as wanting to build a competition rifle and they're looking at it as a project for the next couple of years, they have to rush their purchase now," he said.
Allen Arms dealers told FOX Carolina that prices for semi-automatic rifles will likely get higher in the coming weeks. Other shops said they're seeing similar demand and similar price increases, as well.
Copyright 2012 FOX Carolina (Meredith Corporation). All Rights Reserved.