AZ governor asks for moment of silence Friday
Posted:
Updated: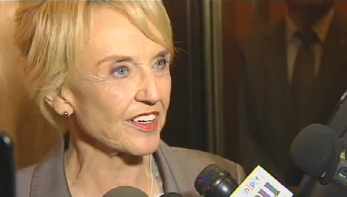 Gov. Jan Brewer
PHOENIX (CBS5/AP) -
Arizonans are being asked to participate in a moment of silence Friday morning out of respect for the victims of the Newtown shooting tragedy.
Arizona Gov. Jan Brewer issued a proclamation declaring Friday a "Day of Mourning." [Click here to read the document (PDF).]
Brewer calls on residents to observe a moment of silence at 9:30 a.m. Mountain Time. She also asks places of worship and government buildings, if they're able, to ring their bells 26 times during the tribute in honor of the 26 children and school employees who lost their lives.
The community of Newtown weathered a fourth day of funerals on Thursday, six days after Adam Lanza opened fire before taking his own life.
A private funeral has been held in New Hampshire for Lanza's mother, whom he shot at their Connecticut home before driving to the elementary school.
The police chief in Kingston said the funeral for Nancy Lanza was held Thursday at an undisclosed location.
Chief Donald Briggs said about 25 family members attended the ceremony in the small town, where Adam Lanza once lived.
The Newtown tragedy is the second worst school shooting in U.S. history after the 2007 Virginia Tech rampage, which left 33 people dead.
(Related: Anthem to hold vigil for Newtown victims)
Copyright 2012 CBS 5 (Meredith Corporation). All rights reserved. The Associated Press contributed to this report.