Some consider homeschooling after Connecticut shooting
Posted:
Updated: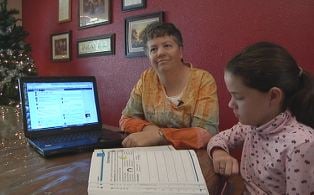 MESA, AZ (CBS5) -
Some Valley parents are thinking about keeping their children home for the next school year in the wake of the shooting in Connecticut.
Micki Oliphan has been homeschooling her children for more than two decades.
"I have nine kids, I've been homeschooling for 25 years," she said.
She has a busy household to run and she is also the one a lot of people turn to for advice when it comes to home education. Since the shooting in Newtown last week, she has seen a few more people interested in the alternative to public education.
"I have seen just a couple of comments on Facebook and of course hearing different people talk about it," she said.
CBS 5 News also checked with the Maricopa County superintendent of schools. About a dozen parents have contacted the office in the last week about homeschooling their kids in the coming school year, according to the office of Dr. Don Covey. The county said that is a slight increase and it is from parents concerned about their childrens' safety.
"It's a knee jerk emotional response that people have right away because it's a horrific thing," said Oliphan.
She thinks that most people will not follow through with the idea and said although it's a decision that's right for her family, there a lot of things that need to be considered.
For example, she said you need to evaluate your patience and think about the sacrifices that you will have to make in your own personal life.
"And I guess recognizing that you're going to have to put some more effort into perhaps helping them have some more outside interests and things like that," said Oliphan.
The Maricopa County superintendent of schools also said that they have not seen a significant increase in homeschool applications in any other counties across the state.
Copyright 2012 CBS 5 (Meredith Corporation). All rights reserved.