UPDATE
AZ Emergency Unemployment Compensation could end
Posted:
Updated: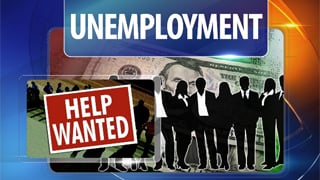 © CBS 5
If you receive unemployment benefits through the Emergency Unemployment Compensation (EUC) program, your benefits may be cut off soon.
The Department of Economic Security is notifying people receiving money from the federal fund that it could end on Dec. 29, 2012.
It would apply to anyone who is receiving EUC, regardless of whether they have completed the benefit period available to hem.
Ruben Saenz is one of 35,000 Arizonans who could be losing their unemployment benefits.
"I depend on this money because it's mine. I worked for it, but now for them to take it away from me is unfair. Now I got no money," Saenz said.
The Department of Economic Security said Congress has not yet approved an extension on the current Dec. 29 end date.
"There is hope for getting this taken care of this weekend," Department of Economic Security spokesman James Apperson said.
The DES is recommending people continue to file their weekly claim so they receive full unemployment benefits if Congress does pass the funding.
For now, people CBS 5 News spoke with said they have no choice but to take matters into their own hands to survive and try not to rely on the federal government to bail them out.
"It makes me mad, but I'm just going to keep looking for a job ... just concentrate on finding a job ... do what I got to do," Robert Holloway said.
Click here for more information from AZUI.com.
This month, officials announced that Arizona's unemployment rate dropped for the third straight month, falling to 7.8 percent as the economy added jobs in nearly all sectors.
The October unemployment rate was 8.1 percent.
Department of Administration economists report that the state's economy added 22,700 jobs in November, the largest November gain since 2005.
Nine economic sectors added jobs in November, while one sector, construction, lost jobs. The natural resources and mining sector was flat.
The biggest gain was recorded in the trade, transportation and utilities sector, with 12,800 additional jobs.
Gov. Jan Brewer is hailing the report, saying it provides reasons for optimism.
Brewer notes that the state's unemployment is now 3.4 percentage points below its peak in January 2010.
Here is her full press statement:
"There are so many reasons for optimism in the latest jobs report issued today by the Arizona Department of Administration. In November, the Arizona unemployment rate fell to its lowest level in four years as we added 22,700 non-farm jobs. This is the largest November tally since 2005.
"Arizona's jobless rate has now fallen 3.4 percentage points from its peak in January 2010. Just as encouraging, job growth has been broad-based and steady throughout 2012 - with Arizona adding nearly 60,000 jobs since January and seeing growth across nine of our state's 11 employment sectors.
"Most impressive of all, better than one in every seven jobs created nationwide last month was generated right here in the Grand Canyon State. This is great news Arizona can build upon as we enter the new year.
"This doesn't mean our work is over. Joblessness remains a struggle for too many of our friends and neighbors. As we move into 2013, I pledge to work with the Arizona Legislature in continued pursuit of the policies that have driven our economic recovery and which remain key to Arizona's long-term prosperity: lean regulations, a competitive tax code and effective classrooms."
Copyright 2012 CBS 5 (Meredith Corporation). All rights reserved. The Associated Press contributed to this report.