Threats investigated at Valley schools
Posted:
Updated: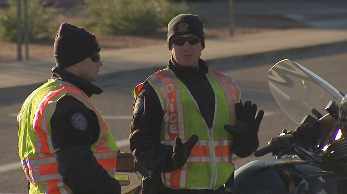 Valley school scares
PHOENIX (CBS5) -
In the past day there have been at least three incidents at Valley schools that have caused concern for parents and students and prompted responses from police.
Police and helicopters swarmed Cocopah Middle School in Scottsdale, while it was still dark out Wednesday, before any students got there.
At about 6 a.m. Wednesday, a cafeteria worker reported seeing a man with a holstered gun walking through the campus wearing a long trench coat. Arriving students were diverted to a staging area at another nearby high school. A four-hour exhaustive search delayed classes at Cocopah, until police were certain the campus was clear.
Chris Dimitruck is a parent of a Cocopah student. He was pleased with how the situation was handled.
"It's a good response. It's a correct response. I don't like the helicopters but I'd rather the kids be safe than sorry," said Dimitruck.
In Glendale, police beefed up security at Mountain Ridge High School. On Tuesday, students there got worried when a senior showed up with scratches on his face to make him look like the Joker from the Batman movies. Rumors started flying about the kid making threats to other students and writing threats on Facebook.
Kyle Reeves is a junior at Mountain Ridge and was glad to see school authorities and police following up on the students' concerns given the shooting rampages recently in other places.
"The guy in Denver was dressed as the Joker. And with the shooting that just happened in Connecticut, I think we should take it really seriously," said Reeves.
The student in question was interviewed by authorities, as were his parents. The investigation included a search of his social media sites. According to Glendale police, they have not been able to verify any of the alleged threats.
The school district said they allowed the student on campus Wednesday to take his finals early. They asked that he not return the rest of this week. That student will be off campus until after the holiday break.
In Gilbert, a group of elementary kids got a good scare. Students being bused home on Tuesday from Val Vista Lakes Elementary School reported that a motorist pointed a gun at them as he drove next to their bus.
A 10-year-old fourth-grader said she looked over and saw the man sitting there, then reach over onto the passenger seat and then point a gun at them.
Another boy on the bus said he was scared. He said he thought the man might pull the trigger.
The bus driver reportedly did not see the man or the gun, but police interviewed all the children who did report seeing the gun.
A mother whose daughter was on the bus said she saw the kids visibly upset when they got off. Several of them were crying.
"I just want to make sure that the schools are safe but I also want to make sure that the bus rides are safe too," said a mom who asked not to be identified.
Police took a report but have not located the alleged suspect.
The Val Vista Lakes principal sent a letter home to parents on Wednesday. It read:
Dear Parents:
This letter is to inform you of an incident that occurred on Bus 206 yesterday afternoon. I want to make sure you have accurate information and dispel any rumors you may have heard about the incident.
We received calls from parents reporting that their children witnessed a man point a gun at them while on the bus ride home. After receiving the information we immediately alerted the police and contacted the Transportation Department to report the information. This is the information that was reported:
Students reported to their parents that a man in a white vehicle pointed a gun at the students on the bus.
At the intersection of Baseline Rd. and Val Vista Dr. the bus made a left turn, while the white vehicle remained on Val Vista Dr., crossing Baseline Rd.
Parents reported that their children were very upset.
The police are working directly with the Transportation Department and the bus driver and the incident is under investigation.
We ask your support in the following ways:
Talk frequently with your children about what they are hearing and seeing at school or on the bus.
Encourage them to report any suspicious activity to a trusted adult at school, or to you.
Discuss with them the importance of giving accurate information and that the information is what they witnessed.
The health and safety of our students and staff is our top priority. Thank you for your support and assistance in keeping our campus safe for everyone.
Sincerely,
Patrick Miller
Principal
Copyright 2012 CBS 5 (Meredith Corporation). All rights reserved.
Threats investigated at Valley schools

More>>