CBS 5 ADVOCATE
Potential disaster looms with auto title loans
Posted:
Updated: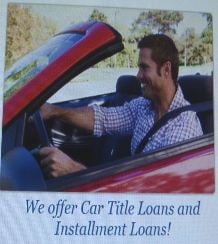 PHOENIX (CBS5) -
A Valley woman says a finance company took her car right from her driveway in the middle of the night for nothing more than a late fee.
Her car is gone for good. She's sharing her experience with auto title loans, hoping this won't happen to someone else.
What do you do when you're in this situation: You don't have any cash to pay your bills, your credit cards are maxed out and you can't get a conventional loan.
Some people might think their only option is an auto title loan, where you use a vehicle that you fully own as collateral.
I'm here to tell you that's just about the worst possible route you can go.
Not only are they ridiculously expensive, but the whole arrangement is just a nightmare waiting to happen.
"We found ourselves in a financial pinch," said Patricia Guillen.
Guillen is a married college professor with a small infant at home. She borrowed money from Lighthouse Financial in Phoenix - $1,500 for six months at an interest rate of 180 percent. Exorbitant fees and cars as collateral - welcome to the world of auto title loans.
"I really didn't have a lot of concern about using the car, I did not anticipate they would take it for such a reason," said Guillen.
Guillen says she provided Lighthouse with all the information necessary to deduct the first payment from her checking account, but the transaction kept mysteriously failing. Guillen says she then went into the Lighthouse office and paid them directly, but was told she now owed $123 in late fees. She filed a dispute with Lighthouse's corporate office in Florida.
"I think this is unreasonable that you guys are charging me this when I can provide you proof that routing and account numbers are correct, and proof that the money is in my account," said Guillen.
The payments were posted, but Guillen says Lighthouse still threatened to send her to "collections" over the late fees. A couple of days later, while she was waiting for corporate to resolve that late-fee issue, she woke up and her car was gone. I asked her what were her thoughts when she walked outside and didn't see her car in the driveway.
"I knew immediately, it hit me in the stomach, and I just thought, they couldn't not have done this, they could not have taken our car for fees that I'm disputing," said Guillen.
But that's exactly what Lighthouse Financial did, and according to Guillen, they didn't seem to care.
"I said, 'You actually took our car for $123 in fees that I'm disputing,' and she said, 'We've taken cars for less than that,'" said Guillen.
To get her car back now, she'd have to pay off the loan in full, plus thousands in extra fees, towing and storage charges. She couldn't do it. Guillen lost her car. Lighthouse Financial owns it now. It's a hard lesson learned about auto title loans.
"As much as this is an embarrassment on my part, to have to go through this, I feel it's my duty to let people know they should not do business with these types of companies," said Guillen.
When I called Lighthouse Financial's Phoenix office and identified myself, the person that answered the phone hung up on me.
I did get a call from a rep at the corporate office in Florida. She said that Lighthouse Financial was within its rights to take the vehicle over late fees in dispute - and I agree. Again, this is the world of auto title loans and why you should avoid them like the plague.
This was a worse-case scenario - two working parents struggling with only one car now. But even in a best case scenario, you'll still pay outrageous interest and put your property at risk.
If you're desperate for money, ask your credit union for a loan, try person-to-person online lending, borrow cash from a family member, or beg a friend if you have to. But again, an auto title loan is not a wise idea.
Copyright 2012 CBS 5 (Meredith Corporation). All rights reserved