For-profit prison firm helped sweep AZ school for drugs
Posted:
Updated: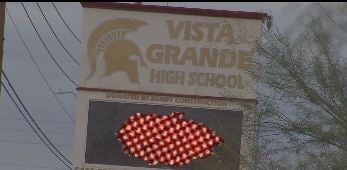 CASA GRANDE, AZ (CBS5) -
Drug sweeps on high school campuses happen, but a recent sweep in the halls of a Casa Grande High School has some people concerned - all because of who was called in to help out.
Employees with a for-profit private prison company that runs several prisons in Arizona went with police on this sweep. They're not peace-officer certified, which is where some take issue.
"I think there are liability issues, I think there are safety concerns," said Caroline Isaacs with the American Friends Service Committee.
Rewind to October, when the principal of Vista Grande High School in Casa Grande said the school was in lockdown for one hour while dogs searched the classrooms one-by-one. The people handling those dogs were employees of the Corrections Corporation of America, or CCA, a for-profit prison company.
"Your company's profits are based on putting more and more people in prison, it creates a perverse incentive to continue to expand that market," Isaacs said. She believes there's a conflict of interest with the non-peace officer certified CCA employees assisting officers with peace officer work.
The principal of Vista Grande tells us:
"I don't know anything about CCA or who they are. When I asked Casa Grande Police about this situation I was informed they used a variety of agencies from across Pinal County."
And a spokesman from CCA sent us a statement said:
"Local CCA staff provided specially trained dogs in response to a specific request from local law enforcement officials. These dogs were accompanied by their trained handlers for the sole purpose of ensuring they behaved appropriately. These handlers did not perform peace officer duties, so POST is not applicable. We encourage you to contact the POST executive director for further clarification.

"Our company strives to be a good community partner, and it was in that spirit that local staff responded to the request. Decisions like this are usually made at the facility level. CCA has since reviewed this practice and decided that facilities can no longer provide this type of assistance, for reasons such as liability. Unfortunately, many of the communities where we operate lack these types of resources, but we think this is the appropriate corporate level policy. We'll continue to support our communities in many other ways."
The superintendent of Casa Grande Union High School District, Dr. Shannon Goodsell, sent us a statement saying:
"The Casa Grande Union High School District would like to thank any licensed or certified agency, either public or private, that is willing to donate their time and efforts free of charge to help keep our school sites safe and drug free."
After the sweep, three kids were arrested; two students had marijuana with them and one had it in her car. A parent we talked to said if the sweeps get drugs off campus, it doesn't matter to her who's conducting them.
"I think if you're not supposed to do something, you're not supposed to do it, and if you're doing it, it doesn't matter who catches you," said Penny Casey.
We reached out to the Casa Grande police but have yet to hear back from them.
Copyright 2012 CBS 5 (Meredith Corporation). All rights reserved.