ONLY ON 5
New insight into mind of embattled Tempe police officer
Posted:
Updated: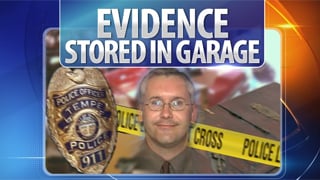 © CBS 5
TEMPE, AZ (CBS5) -
CBS 5 has obtained insight into the mind of a Tempe police officer who admitted to storing evidence from several murders in his garage.
According to documents from the internal investigation, Officer Tony Trow stated, "I had a feeling it would come back and bite me."
Reading through the 20 page report it's clear Trow may never have been cut out to be a detective.
Trow admitted he "struggled" and "was very disorganized." He also said he "had trouble with time management" during his time in the Criminal Investigations Bureau.
The report showed from August 2004 until March 2012, Trow stored evidence from several murder cases in his home to hide his unfinished work.
"It's a dream for a criminal defense lawyer to have a case where the primary evidence was stored from some period of time in an unsecured location," criminal defense attorney Marc Victor said.
The 12-year veteran said he kept everything in cardboard boxes in his bedroom for about a year. But when he moved, all of the crime scene photos, fingerprint cards and original interview recordings became a "jumbled mess." Trow told investigators at that point he put all of the evidence in Tupperware and moved it to the garage.
"That may very well cause the cases to be dismissed," Victor said.
Trow also talked about why it took him years to write 10 reports. His excuse for not writing a case report on the rape of a teenage girl was that "she wasn't cooperative" and "he didn't see a pertinent need to get to it right away." Because a report wasn't written, the girl's rape kit was never tested.
Nineteen-year-old Daron Gibson's murder report wasn't written until Trow was ordered to finish it five years after his death.
"This new line of information has created a void in the healing process," said Daron's father, Curtis Gibson.
Trow admitted to procrastinating. He said, "Things became so overwhelming that he didn't want to write the report." He also stated, "It bothered him that he had all the information at home to write this report and knew he should especially since it was a murder investigation."
"I think we are entitled as well as the public to an explanation why this happened how did it happen and more importantly going forward what have you done to make sure this doesn't happen again," Curtis Gibson said.
Trow said he never asked for help because of "pride."
It was recommended Trow be fired after an internal investigation, but for some reason that decision was overturned by Chief Tom Ryff, CBS 5 News uncovered.
After the investigation, Trow was demoted to a patrol officer and received a 160-hour suspension.
CBS 5 also learned that his supervisor, Homicide Detective Sgt. Mike Hill, was also demoted and suspended for 80 hours for improper supervision.
Copyright 2012 CBS 5 (Meredith Corporation). All rights reserved.