School safety programs funding cut in 2011
Posted:
Updated: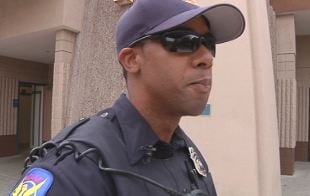 PHOENIX (CBS5) -
In light of the recent tragedy in Newtown, CT, CBS 5 News wanted to find out where the money is coming from to help protect Arizona's children at school.
A big part of the funding for school safety programs has been cut since 2011, according to the legislative budget office.
There are school resource officers, but the money to help keep them in the schools is fading.
Principal Dr. Gabriel Trujillo at Trevor Browne High School, which is part of the Phoenix Union High School District, said safety is one of his number one priorities.
"As a campus principal, you can never have too much safety and security on your campus," Trujillo said.
School resource officer Thomas Watson said they serve many roles at the schools.
"The primary responsibility of any officer assigned to a school is number one, law enforcement," Watson said. "But more so just to bridge the gap between the student, their parents and law enforcement."
But the Department of Education said of the approximately 2,000 schools in Arizona, only about 104 of them get state funding.
Since the year 2000, $7.8 million has gone toward school safety from sales tax money every year, according to the legislative budget office. The same office also said in 2011 the state legislature cut an additional $6.8 million from the general fund that had gone to the schools before.
"We have seen a steep decline in moneys allotted to the public school system over the years by our own legislature," said Trujillo.
Trujillo noticed that cut at his school too, but he said the district made cuts in some areas of their own budgets to find money to pay for the officers. Trujillo said he thinks we will see more schools doing this in the near future.
"I think you're going to see school districts both unified and union districts re-examining their budgets and making some tough decisions and saying, 'Guys, safety first,'" said Trujillo.
Some Arizona schools also get money for school resource officers from federal grants, but the Department of Education said a lot of that money is being cut too.
We did find that in some districts, the police departments will pay the officers to work on school campuses.
Copyright 2012 CBS 5 (Meredith Corporation). All rights reserved.