UPDATE
Avondale police: No suspect info in jogger's death
Posted:
Updated: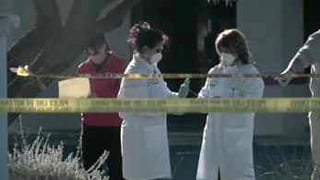 Technicians at the crime scene
Avondale police said an unidentified woman whose body was found Sunday morning was killed.
The body was found about 8:40 a.m. near 108th Avenue and Indian School Road, according to Avondale police Sgt. Brandon Busse.
"A citizen actually going through the garbage cans looking for cans actually found her," Busse said.
He said there is no suspect information.
Investigators said Friday they believe this was a random attack on a woman who was jogging in the area.
Police said an autopsy was done but the cause of death is not being released at this time.
Police said they've located who they believe to be the woman's family and are waiting to positively identify her through DNA before releasing her name.
The crime scene suggests the woman may have been on the sidewalk when she was attacked, according to authorities. A trail of skid marks and pools of blood indicate she was dragged to the place where she was found. It's possible the suspect jumped a brick wall to get away.
Avondale police said the attack does not fit with any other unsolved crimes in Avondale or the surrounding areas.
The Avondale Police Department provided the following tips to residents either walking or jogging in the area:
Don't walk or jog unaccompanied, try to utilize the buddy system.
Stay in areas that are well lit.
Contact police if you observe any suspicious people or activity.
Remember to take a cell phone.
Anyone who might have seen the woman in the area Sunday or who has any information about the woman or case is asked to call the Avondale Police Department at 623-333-7380, or they can contact Silent Witness at 480-WITNESS if they wish to remain anonymous.
Copyright 2012 CBS 5 (Meredith Corporation). All rights reserved.