Valley school's emergency response plan
Posted:
Updated: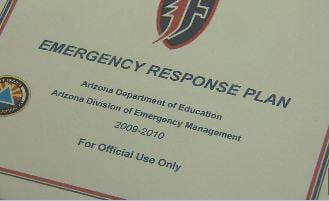 PHOENIX (CBS5) -
The news of the shooting in Connecticut is hard to comprehend and it is especially tough to think of the victims, many of which are just kindergartners.
Naturally it leads us to think about our own families and agonize over how do we keep them safe at school at any age.
Arizona law requires that public schools have an emergency plan in place and CBS 5 News talked with a teacher who has been in the classroom for more than a decade at Central High School in Phoenix.
Mark Williams is a sophomore English teacher there and said the students and teachers are only starting to process the heartbreak of what happened in Connecticut Friday.
Williams has a unique perspective on the tragedy. He has a background in law enforcement and heads the school's crisis coordination.
We asked, "How shocking is it for you to see this happen at an elementary school?"
"Terrible," he said. "Personally it doesn't get any worse than this."
He said even with emergency plans in place, some of the best plans are just reactionary.
"We don't want to hear this. But, this event, from what I gather, is not defensible. If this individual wants to get on campus and do this type of thing, it's going to happen," said Williams.
He is also responsible for making the CHS campus one of the safest in the state and he considered what his school would do in an emergency like Friday's.
"We lock the doors we don't answer the doors," he said.
Williams said Arizona state law mandates that they have a plan. They can lockdown every classroom, or evacuate campus in minutes and have an armed campus officer.
"A safe learning environment is what we are striving for," said district spokesperson Craig Pletenik.
He said regular drills help keep students prepared for the emergency they hope never happens.
"Two lockdown drills a year, two reverse evacuation drills a year and monthly we do fire drills," said Pletenik.
Some schools in the state also have a threat assessment team. It is not mandatory, but those teams are designed to look for individuals who may have violent tendencies.
The Arizona Department of Education recommends calling your school to check to see what emergency procedures they have in place.
Copyright 2012 CBS 5 (Meredith Corporation). All rights reserved.