Tragic school shooting evidence of changing role of teachers
Posted:
Updated: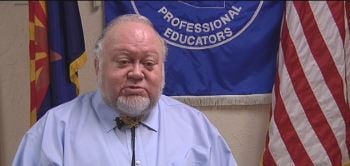 MESA, AZ (CBS5) -
The tragedy in Connecticut is evidence that teachers are now doubling as law enforcement officers in the classroom, especially in crisis situations.
David Smith, the executive director the Arizona Professional Educators said in the 1970s, when he first started teaching, he worried about only one thing - teaching. But now educators are literally on the front lines of violence.
He said lockdowns are becoming increasingly more common in schools, and since schools are gun-free zones, it could be because they are easy targets - teachers and administrators are unarmed.
Smith said the days when a teacher's primary goal was to create a lesson plan are far from over, and now they maintain law and order both inside the classroom and out.
"When I started teaching, you walked into your classroom with your 30 students, you closed the door, and you were a universe unto yourself," he said. "Now you need to be aware not only of what's going on amongst all those children, but you need to know what's going on next door, what's going on outside."
Smith said teachers are trained in lockdown procedures but not trained enough about how to protect themselves and their students.
"Unfortunately, we're not told very much how to act in a way to protect our students from situations like the one that happened today," he said. "We're not given training and how do you protect your kids, other than lock the door and have them hide under their desks?"
Smith said providing more training for teachers and creating a visible security presence at schools are some solutions.
Copyright 2012 CBS 5 (Meredith Corporation). All rights reserved.