LOCAL REACT
Arizonans react to CT school shooting
Posted:
Updated: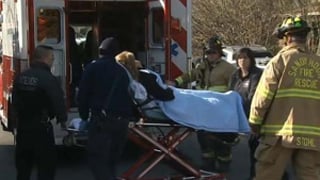 (Source: WFSB-TV) CT school shooting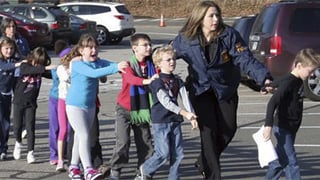 (Source: Newtown Bee/Shannon Hicks) CT. State Police lead children from the Sandy Hook Elementary School in Newtown.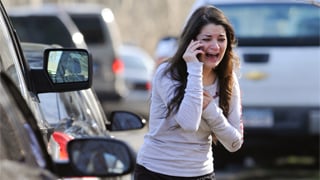 (Source: AP) A woman waits to hear about her sister, a teacher, following the shooting.
PHOENIX (CBS5/AP) -
The husband of former U.S. Rep. Gabrielle Giffords says the response to the deadly shooting at a Connecticut elementary school must consist of more than regret, sorrow and condolence.
Mark Kelly said in a post on his Facebook page Friday that the children killed at Sandy Hook Elementary School and all victims of gun violence deserve leaders who are courageous enough to have a "meaningful discussion" about the nation's gun laws.
Kelly says the families of the victims and the entire Connecticut community are in his and Giffords' thoughts and prayers.
Giffords was nearly killed in a January 2011 shooting that killed six people and wounded 13 at a meet-and-greet event outside a Tucson grocery store. She was left partially blind with a paralyzed right arm and a brain injury.
Mark Kelly's complete text posted on his Facebook page:
"I just woke up in my hotel room in Beijing, China to learn that another mass shooting has taken place - this time at the Sandy Hook Elementary School in CT. My thoughts and prayers are with the families of the victims and the entire community of Newtown, CT. I just spoke to Gabby, and she sends her prayers from Tucson.

"As we mourn, we must sound a call for our leaders to stand up and do what is right. This time our response must consist of more than regret, sorrow, and condolence. The children of Sandy Hook Elementary School and all victims of gun violence deserve leaders who have the courage to participate in a meaningful discussion about our gun laws - and how they can be reformed and better enforced to prevent gun violence and death in America. This can no longer wait."
Gov. Jan Brewer's office issued this statement Friday afternoon:
"Like all Americans, I am horrified, outraged and heartbroken at the news of today's senseless shooting spree at a school in Newtown, Connecticut. More than two-dozen of our fellow Americans were lost - innocent young lives have been cut short.
"As law enforcement works to put together the pieces of this tragedy in the coming days, I ask that all Arizonans join me in praying for Newtown. Pray for the schoolchildren too young and innocent to comprehend such cruelty. Pray for those who were unjustly taken from their loved ones, and for the families shaken by a sense of grief difficult to imagine. Finally, pray that Americans rally together - as we do in trying and tragic times - to cope with this heartbreak.
"Today, Arizona stands with Connecticut. Let us hold the town of Newtown and its residents in our hearts and prayers. In memory of the victims of this tragedy, and in coordination with the President's order, I have asked that flags at all State buildings be lowered until sunset on December 18, 2012. I encourage all Arizonans to participate in this tribute."
Mesa Public School officials say they are shocked and saddened:
"Our deepest sympathy and our thoughts are with everyone in Newtown as they deal with the heartbreaking tragedy."
"We know an event like this raises questions in our community about how we safeguard children in our care.
"Student and staff safety is always our top priority. We have comprehensive security and emergency plans in place, such as visitor sign-in requirements, lockdown procedures, evacuation protocols and mass-communication systems.
"These procedures are reviewed regularly, and students and staff practice them every semester. Our efforts are coordinated closely with the Mesa Police Department and other law enforcement and municipal agencies.
"Please don't hesitate to contact your school if your child needs additional assistance from our teachers and counselors to deal with the distressing news."
Here's a statement from the Tucson Police Department:
"Along with the rest of the nation, the Tucson Police Department would like to extend our sympathy to the Newtown, Connecticut community. Although the tragic event of this morning appears to have been an isolated incident, and no similar type of actions or threats have been made in our community, the Tucson Police Department will increase its presence at or near schools throughout the City of Tucson. These resources will remain in place for an undetermined amount of time.
"Contact has been made with administrative personnel at each of the different school districts having schools within the city limits of Tucson to advise them of the enhanced police presence. We have also solicited information from them regarding any concerns that they may have.
"Chief Roberto Villasenor directed the enhanced presence at or near schools as a precautionary response here in Tucson. Beginning this afternoon, citizens can expect to see the increase in police presence, especially as the children are released from school for the day.
"Patrol officers as well as Solo Motor Traffic officers have received specific direction to maintain an increased presence around as many schools as possible in their assigned areas throughout the remainder of the day. Again, there are no indications at this time of any threats to any Tucson schools, and this increased presence is merely precautionary in nature.
"Be assured that we take the safety of the community very seriously, and we are prepared to maintain the safety of the most vulnerable of our residents at all times. We want to remind our community to live your normal lives, without apprehension but remain vigilant. Keep your eyes open and be aware of your surroundings, and please do not hesitate to report any suspicious activity to police immediately."
The Peoria School District sent this letter home to parents:
"In light of the tragic events which took place during the school shooting in Newtown, CT today, the Peoria Unified School District would like to take an opportunity to reach out to our local community. While providing the best possible education to your children is our mission, this is a reminder that our top priority is to provide a safe learning environment for our students.
"Our campuses take any potential threat to the safety and welfare of our students, faculty and staff very seriously. There are a number of safety measures in place on each and every school and office site in the event of a crisis situation. In addition, the district has a close relationship with local law enforcement agencies that know to alert schools immediately to any incident involving the safety of the school or local community.
"This is a good time to remind your student of the seriousness of any potential threats. Any member of the school staff will always be available to assist students who have safety concerns or who are engaged in conflict. Additionally, any time students or parents have information regarding a safety matter, they can contact the Safe School Line at 623-486-6199. Thank you."
The Kyrene School District issued this letter to parents:
"Please be assured that Kyrene schools are continuing to follow our normal schedule today. Kyrene has a number of proactive measures in place to ensure the safety and security at all of our schools. Some of these include:
"- During the school day all exterior doors to a school building are locked. The only point of entry into our schools is through the school offices.
"- All of our schools have a virtual video fence where cameras operate 24 hours a day and act as a deterrent for unauthorized activity.
"- All schools follow a comprehensive crisis plan and practice lockdown and fire drills on a regular schedule.
"- When a school calls a lockdown, even District badges will not open an exterior door, and crisis personnel at the District office are automatically contacted.
"- We regularly review our crisis plans and work closely with all local emergency agencies.
"Kyrene continues to take the safety and security of our students and staff very seriously. Thank you for your continuing support."
U.S. Rep. Ron Barber issued the following statement on Friday's shooting.
"Today's tragedy at Sandy Hook Elementary School in Newtown, Conn. is a devastating loss for the families, the people of that community and for all Americans. It is especially painful because it took place in classrooms where children should feel safe as they grow and learn.
"As those of us in Tucson know, senseless acts such as these tear at the very fabric of a community. In times like this, we come together to support each other. To the people of Newtown, we are with you today and in the days, weeks and months ahead.
"My thoughts and prayers go out to the families and friends of those who were killed or injured today as well as to the first responders, law enforcement personnel and medical teams who are treating the victims.
"All of Tucson and Southern Arizona as well as the entire nation stand with the people of Newtown."
Police officials said the suspect in the attack is 20-year-old Adam Lanza, according to the Associated Press. They believe teacher Nancy Lanza, his mother, was his primary target.
Copyright 2012 CBS 5 (Meredith Corporation). All rights reserved. The Associated Press contributed to this report.