UPDATE
Name released of man fatally shot by Tucson police
Posted:
Updated: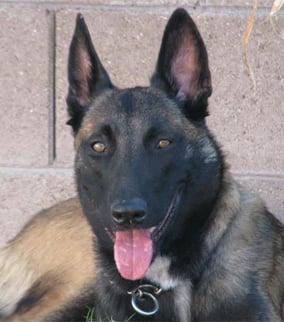 (Source: Tucson Police Department) K-9 Ivan
TUCSON, AZ (CBS5) -
Authorities have identified a carjacking suspect who was fatally shot by Tucson police officers Wednesday night at the conclusion of a brief chase in the city's midtown area.
Tucson police said Monday the man is 53-year-old Fernando Velarde-Loureiro.
K-9 Ivan was shot by the suspect at close range, said Tucson Police Spokesman Chris Widmer.
The incident began when police got a call from someone reporting a carjacking at a Domino's Pizza at 5460 East Speedway. The victim told 911 that a man had taken his vehicle and wallet at gunpoint, Widmer said.
A description of the vehicle was quickly broadcast. Moments later, an officer spotted the vehicle near the intersection of Fifth Street and Alvernon Way. The officer activated his emergency equipment in an attempt to stop the vehicle.
Velarde-Loureiro drove off at a high rate of speed, running red lights and driving into oncoming traffic several times, Widmer said. Police gave chase, both on the ground and in the air.
The vehicle drove through the front yard of a home in the 500 block of North Treat, causing extensive damage to a light pole, a wrought iron fence and landscape, Widmer said. The chase finally ended in an alley north of Second Street and east of Stewart Avenue.
Velarde-Loureiro fled the vehicle and several officers gave chase, including a K-9 officer and his service dog, police said.
Velarde-Loureiro ran into the front yard of a home in the 2900 block of East Second Street. With assistance from the Air Support Unit, the area was quickly contained, officers said.
Officer Chris Fenoglio and his dog, Ivan, immediately began a scout of the area, starting at the residence where the suspect was last observed, Widmer said.
Velarde-Loureiro later emerged from the front porch of the home brandishing a large caliber revolver, which was initially down at his side, Widmer said. He then pointed the handgun to his head.
Ivan was released and bit the suspect on his left arm. Velarde-Loureiro turned the gun downward and shot Ivan once, Widmer said. The suspect began to move again with the handgun in hand.
Officers said they gave Velarde-Loureiro repeated commands to drop the weapon but he refused to comply. Officers Fenoglio, Matthew Merz, Jason Kerns and Jon Collamore all fired multiple shots at the suspect striking him numerous times, Widmer said.
Velarde-Loureiro was pronounced dead at the scene. Ivan was taken to Valley Animal Hospital where he died following extensive life-saving measures.
Copyright 2012 CBS 5 (Meredith Corporation). All rights reserved.