UPDATE
Snow clogs roads, cancels classes in Flagstaff; rain hits Valley
Posted:
Updated: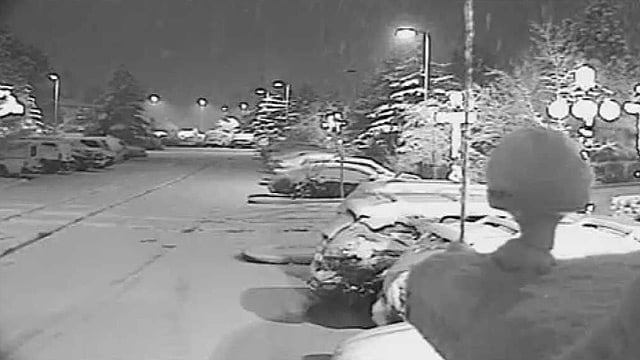 (Source: CBS 5 News) Snow began falling in Flagstaff Thursday night and up to 8 inches of snow are expected in the high country.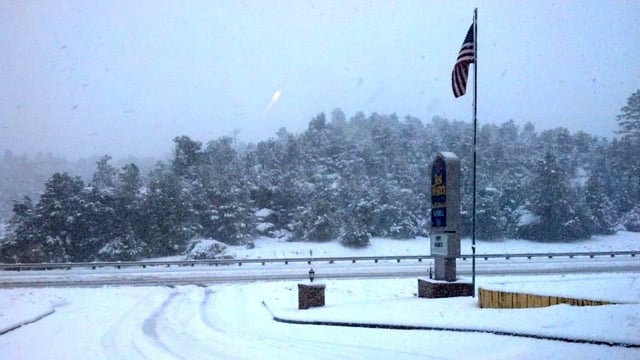 (Viewer submitted photo by Dharmesh Bkakta) Snow from the Heber area Friday morning.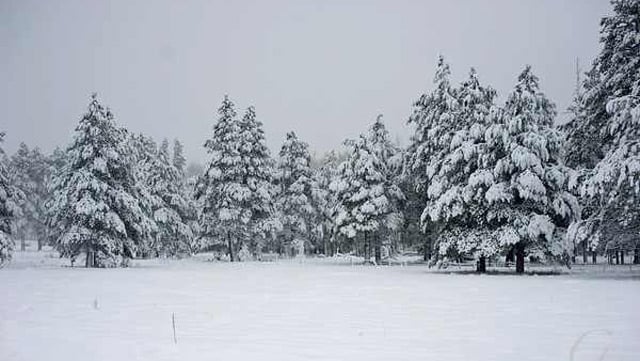 (Viewer submitted photo by Luis Diaz) Snow blankets these trees inFlagstaff.
PHOENIX (CBS5/AP) -
Arizona's high country is finally being transformed into a winter wonderland, but all is not fun and games.
A storm system blanketed Flagstaff and the nearby San Francisco Peaks with snow. It also created driving conditions hazardous enough to force the Flagstaff Unified School District to cancel classes and created some rescheduling issues for Northern Arizona University's winter commencement.
A winter storm warning was in effect for much of the southern part of the state and a winter weather advisory was in effect in the high country through Friday.
Heavy rains began falling in the Valley on Thursday night and continued into the early morning before it began to taper off as the system moved northeast and out of the Valley around 5 a.m.
Nearly 1.4 inches of rain fell at the Stagecoach Wash area in Cave Creek, while far north Scottsdale received 1.1 inches.
More than a half-inch of rain fell throughout most of the rest of Valley.
Flagstaff received at least 3 inches of snow as of 6 a.m., according to the National Weather Service, while more than a foot fell northwest of Payson.
NAU moved its commencement ceremony for undergraduate students in the colleges of Arts and Letter; Engineering, Forestry and Natural Resources; Health and Human Services; W.A. Franke College of Business; and University College from 9 a.m. to 10 a.m. because of the weather and hazardous roadways.
Graduation ceremonies for graduate students in the colleges of Education and Social and Behavioral Sciences and extended campuses previously scheduled for 1 p.m. and 5 p.m. were combined for a 3 p.m. commencement.
Another storm is on its way and was expected to hit the state Friday night, bringing more rain, wind, mountain snow and cooler temperatures.
CBS 5 Meteorologist Jason Kadah predicts up to an inch of rain for the Valley by Friday afternoon. In the higher elevations, up to 10 inches of snow is expected, especially above 7,000 feet. Even elevations around 5,000 feet could see an inch or two of accumulating snow, Kadah said.
Interstate 17 south of Flagstaff and parts of Interstate 40 will be slick and snow-covered, and back country roads might become impassable.
Heavy rain developed in Yuma and La Paz counties late Thursday afternoon.

Upslope rains, especially over the mountains northwest through east of Phoenix, will range from 1 to 2 inches.
In Glendale, shoppers at the Tanger Outlet stores dodged the droplets while holiday shopping.
"Thank God for the awnings over there. Without that we'd be drenched," said Sarah Fette, who was shopping with her mother.
Monica Almansa, another shopper, said she actually enjoys the rain.
"It's a lot more enjoyable here than it is in Albuquerque. We're used to snow and having to deal with that. So it's a lot better to just deal with a little bit of rain. We can definitely deal with that," she said.
New forecast models suggest another less potent system for the weekend that will keep the cool temperatures in place and allow the chance for a spotty shower or two.
Highs Thursday and Friday should be in the low 70s, dropping to 60 for Saturday and Sunday. Lows will be 49 Friday, 51 Saturday and dropping to the mid-40s Sunday through Tuesday.
Copyright 2012 CBS 5 (Meredith Corporation). All rights reserved. The Associated Press contributed to this report.