Gun buyer sentenced in Fast and Furious case
Posted:
Updated: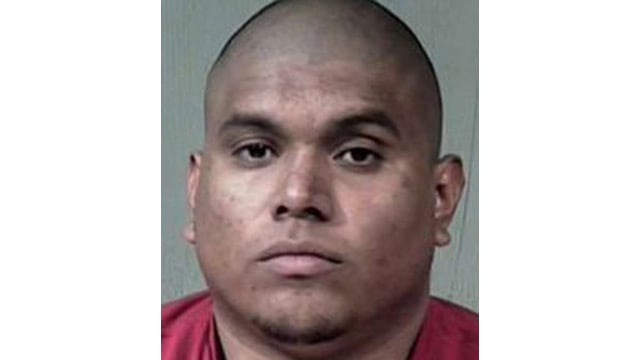 (Source: Maricopa County Sheriff's Office)Jaime Avila Jr. was sentenced to 57 months in prison Wednesday for his role in a gun-smuggling ring monitored during the botched Fast and Furious federal investigation.
The man who admitted to buying guns as part of a smuggling ring, including two rifles found in the aftermath of a 2010 shootout that killed U.S. Border Patrol Agent Brian Terry, was sentenced to 57 months in prison Wednesday as part of a plea agreement accepted by a Superior Court judge.
Jaime Avila Jr., 25, was given the sentence after he pleaded guilty to conspiracy for acting as a straw buyer of guns for a Mexican drug cartel being monitored as part of a botched federal investigation known as Fast and Furious.
Avila had admitted to lying that the weapons he bought were for him and not the drug cartel, and out of an original 57-count indictment, he was charged with only five counts.
His defense argued that he was responsible for purchasing 52 firearms out of the "thousands" that could be linked to the case and was simply following the orders of his leaders. The defense also claimed the lure of money to satisfy his substance abuse habit was responsible for his involvement.
The prosecution claimed he was directly and indirectly responsible for up to 90 "weapons of war" involved in Fast and Furious and that he recruited two other people to purchase weapons that he would take into Mexico.
Avila could have faced a maximum sentence of 63 months under the agreement, according to the judge. Avila was facing as much as 10 years under the original charges.
The Terry family had sought to be classified as crime victims in the case, but the U.S. attorney opposed that request.
However, the judge did grant a motion allowing Terry's cousin to address the court Wednesday.
"Mr. Avila's actions had deadly consequences," said Robert Heyer, Brian Terry's cousin, in a victim impact statement before the sentencing.
"He had a choice through all of this and he chose to purchase these weapons," Heyer said.
"He walked into gun stores, falsified documents and took delivery and passed these weapons off. Mr Avila's actions started a chain of events that ultimately ended the life of a Border Patrol agent," Heyer said as the family asked the judge to consider the maximum sentence.
"The Terry family wishes he could be held directly responsible for Brian's death, but we know this is not legally possible."
Copyright 2012 CBS 5 (Meredith Corporation). All rights reserved.