Got an unwanted timeshare? Help is available
Posted:
Updated: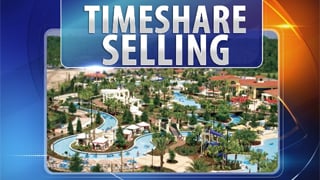 © CBS 5
PHOENIX (CBS5) -
Many Valley consumers have been paying fees on timeshares for years - timeshares they never use.
They are also finding it very hard to sell them. If your timeshare is an albatross around your neck, you can finally get rid of it if you do it the right way.
"My husband and I bought this timeshare back in 1983," timeshare owner Kay McDermott said.
McDermott hasn't used it since 1985. But she still has to pay the yearly fees timeshares require. She's been doling out unnecessary cash for 28 years.
"We started out paying a $100 a year for the maintenance fees," she said. "It is up to like $597 now," McDermott said.
That's $600 a year for something she doesn't use or want. She tried to dump it through online brokers, but she says they just took hundreds of dollars from her and did nothing.
"It has been really frustrating because I have tried to get rid of it twice," McDermott said.
Online resellers who charge upfront fees to list your timeshare on the web, are not the way to go. Clark Rowley, the Arizona chairman for ARDA - the American Resort Development Association - a trade group representing the timeshare industry explains why.
"When somebody is asking you for money upfront, to me that's not ethical, and they are not going to go out and try to work to provide that buyer to you, and to successfully close escrow, because they've already been paid," Rowley said.
Rowley also said there are reputable companies that only charge fees after the deal is done. One example is Montana-based non-profit called "Donate for a cause."
"I think it's a great deal," McDermott said. "if I had known about this 10 years ago I would have gotten rid of it back then."
Donate for a Cause works with many reputable charities. They can help transfer title of your timeshare to a charity that can use it. McDermott had to pay for the closing costs - about $1,500, but she feels it was money well spent - 28 years of paying maintenance fees has come to an end.
"I'm out from under it, my children are out from under it, and I am glad to have paid that money," McDermott said.
Donate for a Cause said they've done more than 40,000 closings in the last 10 years and more than 100 in Arizona just this year. If you donate your timeshare, you get the full Fair Market Value as a deduction on your taxes. In some cases, you won't pay anything. The charity will pick up the closing costs, but even if you have to pay them yourself - like McDermott did - it may just be worth it.
Two things about timeshare selling never to forget: First, never pay upfront to sell a timeshare...period! Always pay a commission after the unit is sold.
And second, make sure you confirm with the timeshare resort that the transfer is complete and you are no longer legally responsible for the timeshare.
Copyright 2012 CBS 5 (Meredith Corporation). All rights reserved.