Bah, humbug! Grinch steals Glastonbury sleigh
Posted:
Updated: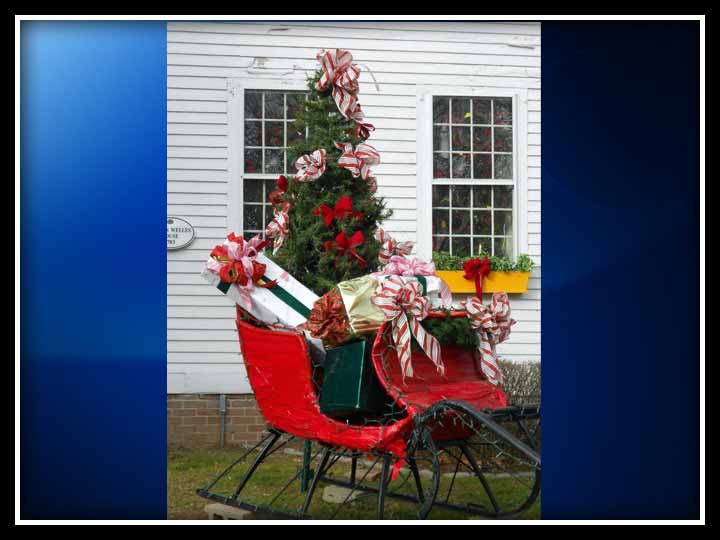 © Emmy Lou's
GLASTONBURY, CT (WFSB) -
The Glastonbury Police Department is investigating the theft of a sleigh that sat in front of a local business.
The sleigh sat in front of Emmy Lou's on Hebron Avenue at the corner of Main Street.
Police said they believe someone actually drove their vehicle onto the sidewalk from the rear of the building to remove the sleigh from the property.
"They backed their truck up to the back area. They had wire cutters and they disconnected all the electrical wires,"said Emmy Lou DeBeri of Emmy Lou's shop. "And they pulled the sleigh back and put it into the truck."
Police said they have narrowed down a time period in which the sleigh could have been taken from about 5 p.m. Friday until about 7 p.m. Police added the corner of Main Street and Hebron Avenue is one of the busiest in town.
All that's left behind is a pile of presents that were in the sleigh and a broken memorial, which appears to have been ran over by the thieves on their way out.
DeBeri said the sleigh has been on display outside her shop every Christmas for more than a quarter century. Now, she's left wondering why someone would take it.
"Its very sentimental. It's an antique sleigh," she said. "It's well over 200 years old and it was just like Santa Clause's sleigh in the Coca-Cola ad."
Customers of Emmy Lou's shop could not believe the news.

"I think it's terrible, especially at this time of the year, to not only take something that's been around for such a long time," said Amy Kureczka. "But it's just sad for the Christmas spirit."
Anyone with information about the sleigh's whereabouts is asked to call police at 860-633-8301.
Copyright 2012 WFSB (Meredith Corporation). All rights reserved.