Tempe police: Elimination of frat row has caused problems, violence
Posted:
Updated: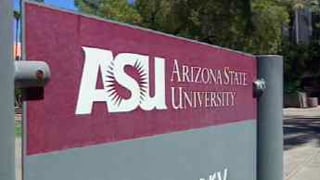 © CBS 5
TEMPE, AZ (CBS5) -
Missing ASU student Jack Culolias was in the process of joining a fraternity when he disappeared. Although it has not been confirmed whether his disappearance is connected to the fraternity, it is just one of several recent incidents that have some questioning whether Greek life at ASU is out of control.
This is the first full semester since the fraternity houses on campus have been eliminated. What was known as "fraternity row" has been leveled. So fraternities are taking over huge houses and apartment complexes in Tempe neighborhoods, and that has taxed police resources, has residents complaining and has been proving dangerous to the students.
An apartment complex east of ASU's campus has been taken over by the Delta Kappa Epsilon fraternity, and it was there at 4 a.m. the Sunday before Thanksgiving that one of its members was attacked.
"It was a very violent attack on that individual," said Tempe Assistant Police Chief Angel Carbajal.
Surveillance cameras captured it all. In it, you can see 15 to 20 guys approach three DKE members. Two of the three targeted ran, leaving Lyle Blumears.
According to the police report, Blumears suffered a broken jaw, concussion and split lip requiring stitches. After the initial attack, a couple of suspects pinned Blumears against the wall while at least four others let loose.
"We've made two arrests, and the investigation is continuing at this point," Carbajal said.
Police arrested Nicholas Haffner and Jon Kuespert and identified them and their friends as current or former members of Tau Kappa Epsilon - a rival fraternity that occupies the complex right next to the DKE's.
"We've seen an increase in calls for service related to fraternities in our neighborhoods," Carbajal said.
Police records show Tempe police responded to known fraternity addresses more than 150 times since August. Many say the demolition of frat houses on campus pushed the problems associated with fraternities into the neighborhoods.
"We've received a lot more complaints from residents than we have in the past, we've received a lot more complaints from our officers than we have in the past in terms of dealing with that issue," Carbajal said.
This is a hot topic in Tempe right now; it is being discussed by the mayor, council, police and ASU officials.
Delta Kappa Epsilon sent a statement saying:
"Recently unknown individuals vandalized the property where a number of our members live and also assaulted a member of our fraternity. The majority of our fraternity members were out of town at a retreat in Northern Arizona at the time except for a few members who had work or school obligations. Members of Delta Kappa Epsilon have been cooperating with Arizona State University and Tempe police to solve this matter in a timely fashion. Surveillance footage, statements from members and other assistance has been provided to officials freely during the investigation. We have the utmost confidence in the ASU judicial process and civil legal system. It is our hope that the ongoing investigations will be completed quickly and that the perpetrators will be brought to justice. Inter-fraternal violence has no part in the Greek system at ASU or anywhere, and DKE has always strived to be a leader in taking steps to improve the sense of harmony and community among our Greek organizations, efforts which we will continue to pursue. We appreciate all the support that the fraternity and our injured member has received since the incident."
"Separately, DKE wishes to extend our sincere best wishes to the family of our inter-fraternal Brother Jack Culolias. The Brothers of DKE hope and pray for his safe return, and we offer any help to the family that they might need."
Arizona State University sent a statement saying:
"Arizona State University is strongly committed to a thriving and robust Greek system. We believe that a campus residential component is important to the success of our fraternities and sororities, as well as the individual student members. The recently eliminated houses on Alpha Drive were in severe disrepair - e.g. buildings not up to code - and were not only terrible learning environments but threatened the health and safety of the small number of students who resided there. ASU has 54 Greek organizations that include 4,000 students, and it should be noted that only a fraction of each resided on Alpha Drive. The university has always offered fraternities and sororities the opportunity to live on campus and many do live in residence halls, including 12 sororities that comprise Aldelphi Commons. These chapters are healthy and thriving. We are currently engaging students in planning for a new on-campus residential component for all chapters, including those that are currently on campus and those that have chosen to live off campus. The Greek community, including alumni, have been supportive of the plan. While still in the planning phase, the Greek community will include living, meeting and social gathering spaces for the chapters. We envision chapter suites that will comprise a new Greek residential complex."
"The university does act on off-campus student misbehavior and students are subject to the Student Code of Conduct."
"ASU works closely with the City of Tempe on many issues, including those involving our students. We strive to seek a positive resolution on these issues. The ASU Police Department works in conjunction with the Tempe Police Department on many joint endeavors, including any fraternity complaints."
Delta Kappa Epsilon (DKE) has never lived on Alpha Drive. Tau Kappa Epsilon
(TKE) has not lived on Alpha Drive since the 2005-06 academic year.
Additionally, we have no records indicating that these two organizations have a history of any negative behavior between them. After the incident was reported, both chapters were placed on interim suspension and the incident is currently under investigation. No information has been given to suggest this incident was racially motivated."
Copyright 2012 CBS 5 (Meredith Corporation). All rights reserved.