On Your Side
Bristol residents forced to pay late fees for misprinted car tax bills
Posted:
Updated: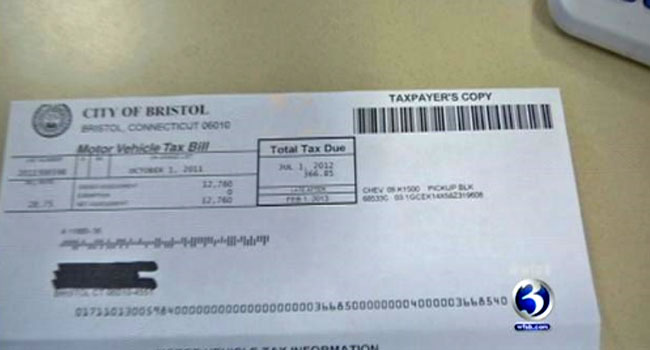 BRISTOL, CT (WFSB) -
A misprint on tens of thousands of car tax bills is causing Bristol residents to rack up fees and some told Eyewitness that it's not fair they're paying for the city's slipup.
Michael Cipollo is one of the Bristol residents who reached to Eyewitness News when he reached a delinquent notice for his motor vehicle tax bill.
He went to town hall to pay the tax, but was shocked when they wanted him to pay the late fee, even after showing the due date printed at the top of the bill.
"They said you're right, we made a mistake, and you have to pay," Cipollo told Eyewitness News.
All 53,000 motor vehicle owners in Bristol received the bill with the wrong date printed in bold letters.
"Well, it definitely was confusing," said Bristol Tax Collector Teresa Babon.
She told Eyewitness News that many residents questioned the bill.
"The minute the error was realized we did everything possible to notify the taxpayers," Babon said.
The city made attempts to get the word out about the mistake and posted a notice on its website and in a local paper. But those who did not pick up the paper or check the web were left unaware of the mistake.
When Eyewitness News asked why city officials didn't just send out a corrected bill, they said it was simply too costly.
"I choose to follow the state statute that also says that I don't have the authority to waive interest, so I can't pick and choose who I waive interest for," Babon said. "I can't waive interest period."
According to Connecticut State Statutes concerning property taxes, if the tax collector and the assessor acknowledge there was an error, they have the right to waive the tax.
"If you do it for one, you have to do it for everyone," Babon said.
On average, about 22 percent of motor vehicle taxpayers in Bristol are late on their bill each year, according to Babon. This year, an additional 1 percent received these delinquent notices in the mail.
She said there is no way to tell who was careless about paying their bill on time and who didn't pay because they thought they had until February. So, the city still wants all affected residents to pay the fee.
However, some taxpayers are saying they shouldn't have to pay for the city's mistake.
"The town is just looking to raise tax dollars," Cipollo said.
Eyewitness News reached out to Bristol Mayor Arthur Ward, but he never returned any of the calls. The city is urging taxpayers to pay in full before Feb. 1 or face the consequences.
"Any vehicles six months or older in delinquency would qualify for the boot list," Babon said.

There will be no exceptions on late fees, even after admitting to the error, Babon told Eyewitness News.
Copyright 2012 WFSB (Meredith Corporation). All rights reserved.