UPDATE-
Long wait finally over for families of murdered AZ girls
Posted:
Updated: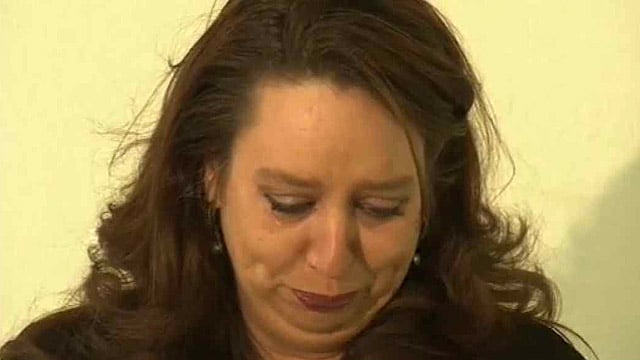 (Source: CBS 5 News) Elisha Gonzales said she was happy that Richard Stokley was executed, but sad because she had to lose her sister, Mary Snyder.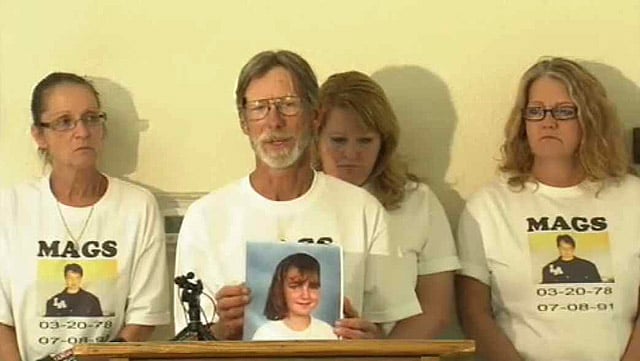 (Source: CBS 5 News) Patty Hancock, left, and Richard Hancock address the media with other members of their family after Richard Stokley was executed Wednesday. Their daughter, Mandy Meyers, was killed in 1991.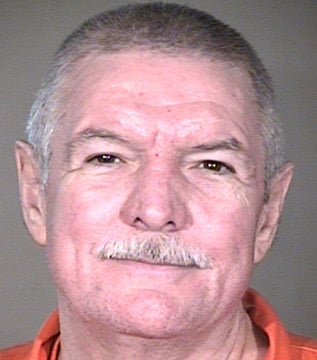 (Source: Arizona Department of Corrections) Convicted murderer Richard Dale Stokley was put to death by lethal injection at the Arizona State Prison in Florence on Wednesday.
FLORENCE, AZ (CBS5/AP) -
The scheduled execution of Richard Stokley took more than an hour longer than originally scheduled Wednesday, but for the families of the two 13-year-old girls murdered in 1991, the wait was nothing compared with the past 21 years.
Stokley, 60, was pronounced dead at 11:12 a.m. Wednesday at the Arizona State Prison Complex in Florence, far later than the 10 a.m. scheduled execution time. Arizona prison officials and medical staff had difficulty locating a vein in Stokley's left arm in which to place the needle for his lethal injection.
It took more than four tries before staff found a vein in his groin and began administering the cocktail of lethal drugs at 10:52 a.m.
Stokley and his accomplice, Randy Brazeal, were convicted of murdering Mandy Meyers and Mary Snyder in 1991 in rural Cochise County.
Media witnesses to the execution said Stokley was talkative during the preparation for his execution, but was stoic when the curtains were pulled open in front of witnesses. They said he never addressed or looked at the victims' families or witnesses.
"I'm glad it's over," said Mandy's mother Patty Hancock.
"I feel bad I even have to be here today. But I also feel better knowing that he'll never get out and hurt anyone else's children again," Hancock said.
"He was a coward from the beginning and he died a coward because he couldn't face us," she said. "He should have at least apologized to me and Dora, the mothers of those two little babies. But he's heartless. What do you expect form a heartless man with no soul?"
"It was a long time coming," said Elisha Gonzales, Mary Snyder's sister. "I'm happy this day has come but sad because I had to lose sister."
Mandy's stepfather, Dennis Hancock, said he hopes the families can achieve some sort of closure and start living a life.
"We'll finally have a holiday in our marriage" without having the specter of someone on death row or in prison, he said, wearing a T-shirt with Mandy's nickname "Mags" and her picture, and worn by other members of her family. "I hope it will be a joyous time, but there will still be somebody missing."
"What has happened over the past 21 years has been the biggest horror story anyone can think of or imagine," he said. "The ups and downs, the hole in the heart, the emptiness, pain and suffering I have seen over the years ... I wouldn't wish it on nobody. Both families are affected greatly by what happened."
Gonzales said some people wonder how she can be happy with Stokley's execution.
"How can I be happy?" she asked in the post-execution news conference. "They lived many years. My sister never learned how to drive, graduated high school, never went to prom, never got to meet my kids. She didn't get to celebrate 20 years of holidays and birthdays. It has destroyed my parents, it has destroyed my family. I cannot feel sorry for a person who has done something so horrific and lived all those years."
The U.S. Supreme Court denied last-minute appeals by Stokley's attorneys Tuesday to block the execution.
Stokley's lawyers said he was entitled to a new hearing on sentencing evidence. They also said his constitutional rights were violated because Brazeal, now 41, was released in July 2011 after serving 20 years in prison for two counts of second-degree murder.
Prosecutors said the Arizona Supreme Court adequately considered evidence on possible leniency for Stokley. Prosecutors defend the disparity in sentences by saying the other man negotiated a plea agreement.
Stokley's last meal consisted of porterhouse steak, french fries, fried okra and a bleu cheese-dressing salad, biscuits, cream soda and chocolate ice cream.
Stokley confessed to raping, strangling and stabbing one of the girls and dumping her body down a water-filled mineshaft.
Brazeal, who was 19 at the time, turned himself in to authorities in Chandler the day after the girls were killed, claiming Stokley held him hostage while he raped and murdered the girls.
But Stokley claimed Brazeal was a willing participant and assisted in killing the girls to cover up their crimes.
Officials have said Brazeal got a plea deal because prosecutors were afraid he could be acquitted if they had to go to trial before DNA evidence was available.
He is believed to be living in Arkansas with family members.
Copyright 2012 CBS 5 (Meredith Corporation). All rights reserved. The Associated Press contributed to this report.