Valley man causes viral lottery hoax on Facebook
Posted:
Updated: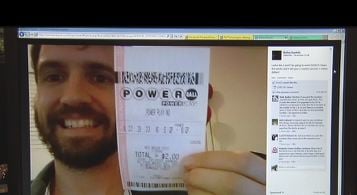 If you logged onto Facebook last week, chances are you saw plenty of posts about the Powerball jackpot. But one post in particular - a guy claiming to the be the winner - has been shared more than 2 million times.
The man said he'll never have to work again, while holding up what he claims is a lottery ticket. He asked people to share the picture on Facebook, saying he'll give $1 million to a random person. It seems nice, right? The problem is, the man didn't really win. His name is Nolan Daniels and he's from right here in the Valley. We talked to his brother about the unintended consequences of the prank.
"It's meant as a joke, but to some people it's serious, it's hard times and it's December and some people were sending their stories on their family losses, hard times they're going through now," Derek Daniels said of messages he received in which people tried to explain why they deserved $1 million.
The post has been shared more than 2 million times. We called Nolan Daniels but he declined an interview.
Copyright 2012 CBS 5 (Meredith Corporation). All rights reserved.