Phoenix city manager gets $78K pay raise
Posted:
Updated: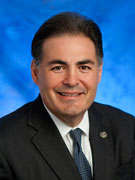 David Cavazos
PHOENIX (CBS5) -
CBS 5 News has learned that Phoenix city council members have approved a $78,000 pay raise for City Manager David Cavazos.
The Phoenix city spokesperson said Cavazos was out of the Friday when CBS 5 News tried to reach him.
Cavazos sent the following statement.
"It is an honor to work under the direction and leadership of the mayor and city council to make the city of Phoenix the best place for businesses and residents. I am grateful that the mayor and city council voted to increase my compensation to match the market rate.
"Since I have become city manager, we have dramatically reduced the size of government to the smallest it has been in 40 years by working with employees, residents, businesses and community groups. We have achieved $60 million in innovation and efficiency savings, expanded services for the community and continue to maintain our AAA bond rating. We also have a structurally balanced budget and continue to build our reserves to the highest level they have ever been.
"We have achieved all of this without raising any fees for two years and with no increases to the water and wastewater rates this year, and a net-zero increase last year.
"I look forward to working together with the mayor and city council to achieve our vision."
Copyright 2012 CBS 5 (Meredith Corporation). All rights reserved.